Over 50? If you can only pick one exercise to build strength, stability, and balance, do this one.
Aging brings many changes to your body, and one that has the most ripple effects is age-related muscle loss. As you lose muscle mass, you not only lose your strength, but also lose balance, stability, flexibility, and mobility.
In any exercise plan over 50, it's important to focus on strength through functional strength training. Particularly, you want to focus on the body's largest muscle groups like the glutes, legs, and core.
Those muscles are key movers in daily functioning and movements like walking, dressing, getting up, and bending down.
Ideally, you have time for a few exercises to cover more ground and work on different movements, if you can only pick one, this exercise is the one not to miss.
The exercise is squats.
You'll also like:
Proven Strategies To Build Muscle Mass After 50 Years Old
7 Hip Mobility Stretches To Do To Get Rid of Stiffed Hips
Squat Exercise
The squat exercise is the jack of all trades and hits all the important muscles and more. It's also a functioning move that mimics the sitting down and getting up movement which is pivotal in daily functioning.
If you think about it, from going to the bathroom to picking up newspapers, we are doing squats. The better prepare your body to handle this basic move, the better you function in your everyday life.
Not to mention, squats primarily target your lower body including the core, lower back, glutes, hips, hamstrings, and quads.
They are the backbone of your stability, balance, and mobility. Adding squats to your regular workout can help not only your strength but also your mobility in a way that truly impacts your daily life.
As you get older, squats can also help strengthen your knee joints, preventing falls and avoidable injuries.
If you are new to the squat exercise, here is how to perform it with good form.
Bodyweight Squats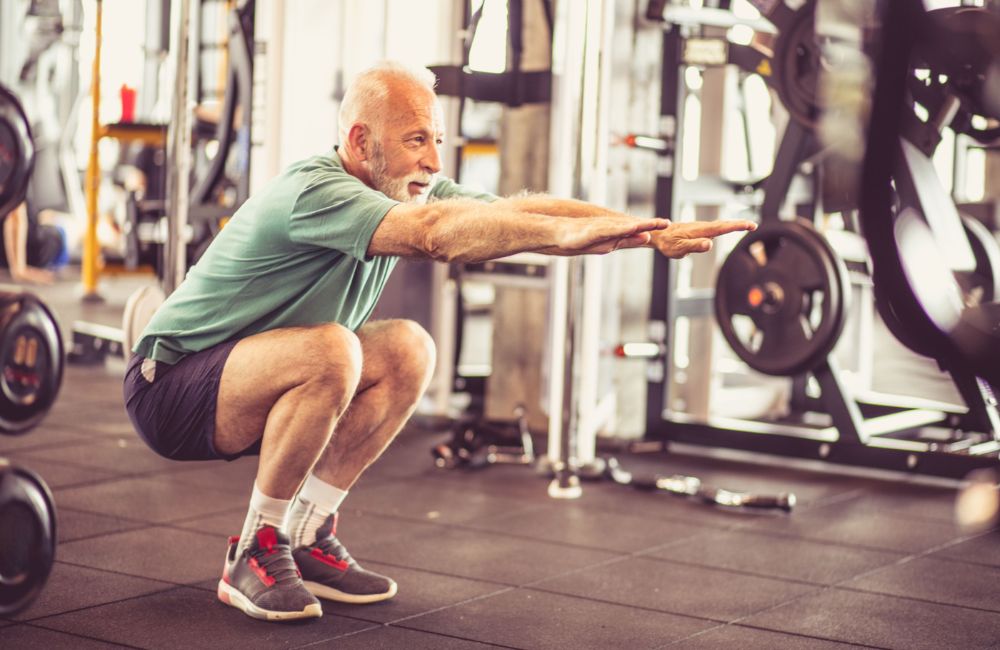 Squats are one of the best functional exercises you can do.
They help improves the stability of your legs and core. Even better, simply adding weight to the exercise can make it much harder and serves as a perfect progression as time goes by.
How to Perform:
Stand with your feet about hip-width apart.
Slowly lower your hips down toward the ground, as if you are sitting in a chair.
Next, contract your glutes and quads as you rise back into standing.
Repeat for 10 repetitions per set, 3 sets per session, and 3 sessions per week.
(Visited 3,898 times, 1 visits today)