I love the fall and winter months because that's when my favorite vegetable is in season "pumpkin".
There is nothing like a pumpkin that really sets the mood for the season and helps us feel all cozy and warm when we start to feel the cold winter breezes.
Thankfully, it is also one of the few low-carb veggies you can enjoy on keto. And there are more than a handful of ways to incorporate it into your keto diet plan. 
If you are interested, we shared our favorite keto pumpkin recipes in the past.
Pumpkin bread, soups, cheesecakes, pumpkin pie, and now our latest favorite, pumpkin spice latte recipe. I promise this one will become your favorite drink this winter.
The best part is, if you've been loving Starbucks's pumpkin spice latte (PSL) that's only available for a limited time, you'll love this recipe.
It's just as creamy and rich in a fall flavor with the foam but without any artificial ingredients and sugar.
It's perfectly made low-carb and keto-friendly without compromising the texture, flavor, or aroma.
Armed with this keto pumpkin spice latte recipe, you can actually enjoy this all year round.
Homemade Pumpkin Spice Latte – 3 Ways
The best part of this PSL recipe is that you can make it in 3 different ways to accommodate your needs.
Whether you want to turn your regular bulletproof coffee into a pumpkin-flavor beverage or simply want to enjoy a pumpkin spice latte without getting kicked out of ketosis, we have just the recipe for you.
Let's take a look at each.
Low-Carb Pumpkin Spice Latte with Espresso
If you are in need of a little pick-me-up in the afternoon with a shot of espresso or two, this is your perfect drink.
It's a coffee lover's perfect low-carb latte with pumpkin spice flavor.
For this, you'll need coffee concentrate or espresso, heavy cream, unsweetened almond milk, and pumpkin pie spice.
You'll also need either a milk frother or blender (an immersion blender is my fave!). You also need some measuring spoons like teaspoons and tablespoons.
To make this, you prepare your espresso shots just the way you normally do and pour them into a mug. If you prefer to make an iced version, you can use cold brew coffee concentrate. 
In a separate mug, combine the almond milk with heavy whipping cream and warm it up in a microwave or in a small saucepan over the stove.
Remove from the microwave or from the stove and add the pumpkin spice, and vanilla extract. Froth the milk mixture till you have a nice foam.
Gently pour the foamy milk into the coffee concentrate and add a keto sugar alternative.
For more aroma and taste, you can sprinkle cinnamon powder.
Pumpkin Spice Coffee
For those looking for either caffeine-free coffee drink with a pumpkin flavor, this pumpkin spice coffee recipe may be more of your thing.
When this time of year, everyone starts to crave a little something of the season, and this is a perfect way to enjoy and really take in the autumn color, flavor, and aroma.
Unlike the first, more caffeinated version, this latte recipe uses real pumpkin puree.
So in addition to the pumpkin pie spice, you need an actual pumpkin to prep this coffee drink.
Trust me, the flavor is 10 times greater, and nothing screams fall like this drink, and you'll totally fall in love because of it.
Here is a list of ingredients.
Hot coffee (caffeine or decaf), full-fat coffee creamer or heavy whipping cream, keto pumpkin spice, sugar-free syrup ( I recommend sugar-free maple syrup), and pumpkin puree. 
To make it, it only takes a minute or two at the most as you'll put everything in a blender and blend.
If you don't have any whipping cream, you can also use full-fat coconut milk, but you'll have a coconutty flavor and smell with the option.
You may choose to use a vanilla syrup in lieu of maple syrup and vanilla extract, but be sure to use a sugar-free version to keep your net carb low.
Bulletproof Pumpkin Spice Latte
This pumpkin latte is for those who want to take advantage of all the benefits bulletproof coffee offers but with a touch of fall. 
To make this, you need all the same ingredients in this bulletproof coffee recipe. So grab your MCT oil bottle, grass-fed butter, and a cup of coffee.
You also need the keto pumpkin spice mix in the recipe and have it made prior to making this latte.
In your coffee mug, add a cup of coffee, MCT oil, butter, and the pumpkin pie spice. Use a milk frother and froth it for a minute or two until the oil starts to foam on the top.
If you are using a blender, you can add all ingredients into a blender and blend for a minute.
This recipe only has natural flavors that don't cost your carb budget or mess up your macros. Yet, it has all the elements of the pumpkin latte you love from local coffee shops and Starbucks.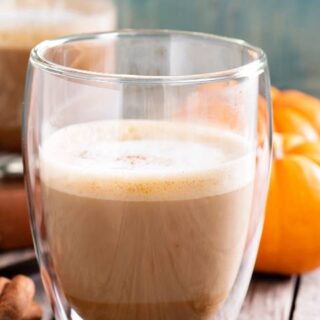 Pumpkin Spice Latte
This keto pumpkin spice latte recipe is sugar-free, low carb, and gluten-free, but tastes just as amazing as the Starbucks one.
Ingredients
For Espresso or Cold Brew Concentrate
2-3 shots 2-3 shots espresso or cold brew
2 tbsp heavy cream
3/4 cup unsweetened almond milk or full-fat whole milk
1/2 tsp vanilla extract
1 tsp pumpkin pie spice
1 tsp keto maple syrup
Regular Brewed Coffee
Regular Brewed Coffee
1 cup brewed coffee
2 tbsp heavy cream or keto creamer
1 tsp pumpkin pie spice
1/2 tsp vanilla extract
1 tbsp pumpkin puree
2 tsp granulated sweetener
For Bulletproof coffee
1 cup organic, quality coffee
1 tbsp MCT oil, or coconut oil as desired
1 tbsp grass-fed butter
Pumpkin spice
1/2 tsp cinnamon
1/8 tsp ground ginger
1/4 tsp nutmeg
1 pinch allspice + cloves
Instructions
Over medium heat, combine chosen coffee, and cream (and/or milk) with spices, vanilla, and sweetener in a small pot. Stir briskly until well mixed, and the mixture is steaming.
For a bulletproof version, just add additional butter, MCT oil, or coconut oil. I recommend using an immersion blender to blend.
Finally—why not add some whipped cream and a dusting of pumpkin pie spice over the top, if you're feeling extra fancy!
Nutrition Information:
Yield:

1
Serving Size:

1
Amount Per Serving:
Calories:

1161
Total Fat:

110g
Saturated Fat:

76g
Trans Fat:

2g
Unsaturated Fat:

25g
Cholesterol:

184mg
Sodium:

470mg
Carbohydrates:

32g
Fiber:

3g
Sugar:

21g
Protein:

13g
(Visited 295 times, 1 visits today)