This delicious honey mustard dressing recipe can turn any boring, tasteless salad into a delicious healthy meal.
They not only add moisture and dress the salad but also, add bursts of flavors that bring out the best of the veggies in the mix.
But the problem is, making a salad dressing can be complicated and time-consuming. Not to mention, many require a dozen of ingredients you may not have on hand.
That's why we put together this five-star, 5-ingredient honey mustard salad dressing recipe that's both simple to make and delicious to eat.
With just a drizzle of this healthy salad dressing, it elevates any type of your favorite salad.
It's one salad dressing recipe you can rely on to make any salad crave-worthy.
Not only this dressing is easy and simple to make, but it only contains a short list of ingredients you most likely have in your fridge.
Not bragging, but it tastes better than anything I ever bought in a bottle.
Another great benefit to making your own salad dressing is that you can control and adjust the ingredients to your liking.
There is no unhealthy oil or artificial ingredients. Just 5 simple yet healthy ingredients that come together in seconds!
Try this salad on any house green salad, cabbage slaw, and olive salad. Truly, this is the most versatile and tastiest salad dressing you ever tasted!
Honey Mustard Dressing Recipe
This easy homemade honey mustard salad dressing recipe only takes 5 minutes and 5 simple ingredients to make. You can also use it as a dipping sauce for chicken fingers, celery, and carrot sticks.
It has a great balance of sweetness from the raw honey, kicks from the Dijon mustard, and tanginess from the lemon juice.
This recipe makes a savory, smooth dressing that dresses any salad beautifully. It's a perfect addition to any green salad with chicken, shrimp, and beef. It's a great dressing to have in stock in the fridge for everyday use! This salad dressing recipe fits in perfectly with the Mediterranean diet meals!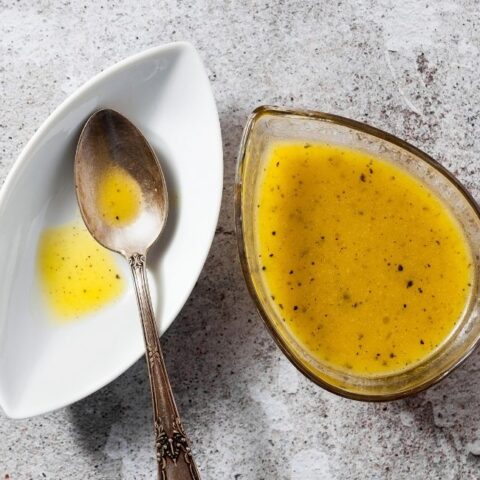 Honey Mustard Dressing Recipe
This easy homemade honey mustard dressing recipe will become your favorite salad dressing soon. You only need just 5 ingredients and 5 minutes to make. You're going to love pouring it over your salad.
Ingredients
3 tbsp dijon mustard
2 tbsp organic honey
2 tbsp lemon juice
2 tbsp olive oil
Salt and pepper to taste
Instructions
In a small bowl, add all the ingredients.
Whisk together until smooth and well-mixed. Season it with salt and pepper.
Pour it into a mason jar and close the lid tight.
This will stay good in the refrigerator for up to 4 days, as long as the cap is on tight.
(Visited 4,279 times, 1 visits today)