This keto peanut butter cheesecake is one of the creamiest, most velvety cakes you can enjoy on keto.
It is a sugar-free, low-carb cheesecake that doesn't leave out any flavor.
When imagining this dessert, think about peanut butter cups, chocolate ganache, Oreo crust, and a mixture of creams such as heavy cream, sour cream, and cream cheese.
It's a perfect blend of mousse-like texture with tanginess you love in cheesecake.
The best part is, that this low-carb chocolate cheesecake recipe is also gluten-free, flourless, and ketogenic.
While most ingredients will be used at room temperature, some may need to be cold and ultimately this dessert is best enjoyed after it cools in the refrigerator.
This may become a favorite low-carb cheesecake for all those peanut butter lovers!
Plus, it's an easy recipe anyone can make without the oven.
Let's go through the cooking methods and ingredients involved to make this creamy peanut butter cheesecake.
No-Bake vs Baked Cheesecake
Cheesecakes whether they are baked or not are delicious, divine desserts. They have distinguished tanginess that's irresistibly addicting.
They are both wonderful, but if you ever find yourself debating whether to make a no-bake or baked cheesecake, here are some of the differences.
Ingredients and Texture
Cream cheese and heavy whipping cream are the main ingredients in any cheesecake whether they are baked or not.
What's different is the use of eggs. Baked cheesecake recipes include eggs while no-bake recipes don't.
In baking desserts, eggs are used to add structure to a batter, moisture to cakes, and help create a fudge-like density.
No-bake cheesecakes on the other hand are made like mousse, which gives the cake an entirely different texture, almost like a lighter fat bomb.
It's creamy, soft, and velvety. It's quite heavenly, and if that's what you are going for, this will be one of your favorite recipes for cheesecakes.
Cooking Method
Between the two, how you set your cake is very different. While baked cheesecakes get baked in a water bath in the oven, no-bake cakes get 'set' and 'chilled' in the fridge.
When making oven-baked cheesecakes, you normally use a water bath method.
After you pour your batter into a prepared pan, you place it on a baking sheet or roasting pan.
You fill the sheet with hot water to create a more humid, steamy environment inside the oven. This helps lift the cake slowly and prevents any cracks and excessive shrinkage after it cools.
Instead of using the oven, no-bake cakes are instead chilled in the refrigerator for hours to set. It's an easier process but takes longer.
How to Make No-Bake Peanut Butter Cheesecake
This decadent dessert can be great for any occasion or gathering, but with the rich creamy peanut butter and ganache combination, Valentine's day comes to mind first.
There is a nice combination of sweetness and saltiness from the peanut butter, along with the balance of the chocolate crust and cheesecake.
Keep in mind you can always swap ingredients, such as crushed chocolate barks or keto Reece's instead of the ganache.
If you find this becomes one of your favorite desserts and you want to lessen the portions, create mini cheesecakes to help with the serving size.
The Keto Oreo Cookie Crust
So let's talk about the keto Oreo crust. You can purchase Oreo cookies that are low carb to make the Oreo cookie crust.
You can choose any favorite brand you have to use in the recipe, but keep in mind the amount of net carbs (Total Carbs minus Fiber) to stay on track with your specific ketogenic diet plan.
When you are mixing your Oreos and the melted butter, make sure to use a food processor to allow a better blending of ingredients.
As a tip, you want to make sure your butter is melted at room temperature prior to mixing.
Once this is nicely blended, you can transfer it into a springform pan. If you find you do not have access to a food processor, no problem!
You can place the cookies into a plastic bag and roll a rolling pin over top to crush the cookies to make a fine crumb.
With the cheesecake being sweet, you may not need to add any sweetener, but you can always add it if you choose. It's nothing complicated, but it just takes additional
Other Crust Options
No Crust: If you want to scale back the sweetness, you can omit the crust altogether and turn it into a crust-free chocolate cheesecake. It'll still be a perfect dessert for anyone on keto.
Keto Graham Cracker Crust: Instead of Oreo cookies, you can also use sugar-free graham crackers. For this substitution, use 2 cups of graham cracker crumbs.
Peanut Butter Cheesecake Filling
The heart of this cheesecake treat is the decadent cheesecake filling.
The biggest difference compared to traditional cheesecake is going to be the peanut butter flavor.
With this no-bake cheesecake recipe instead of using a lot of peanut butter, you use only a small amount to allow a hint of the peanut butter flavor.
As a result, this no-bake peanut butter cheesecake is lighter than other peanut butter cheesecake recipes. Keep reading to view the great recipe!
Chocolate Chunks Toppings
Cheesecake toppings? Yes, please! There are so many topping choices, some favorites are ganache, drizzle or melted chocolate, chocolate chips or chunks, and even frosting.
If you find the frosting is too sweet, you can add in small portions to add decoration to garnish the peanut butter dessert.
The choice is yours, be creative! Even check out social media, like Pinterest for additional topping ideas.
If you are looking for even more peanut flavor for the peanut butter cheesecake recipe, add some peanut butter cups to the top.
Try to opt for dark chocolate peanut butter cups with less carbs, even looking for ones that have a sweetener such as stevia.
Different toppings can be great for any special occasion.
An easy dessert topping can be simply chocolate chunks, the best way to add extra flavor and sweetness.
Key Ingredients
To make this cheesecake recipe the best dessert it can be, these key ingredients need to be used to stay in line with the ketogenic diet.
Sugar, well actually a sugar alternative to keep it low carb, peanut butter, and the ingredients used to form the crust.
If you are making this for the first time, make sure you read the three tips below to make it the best cheesecake.
Sugar Alternative
One essential way to keep this awesome recipe a low-carb treat is to omit the sugar and use a sugar-free alternative.
This recipe uses Allulose to replace 1/3 cup sugar. But if you prefer other sweeteners like erythritol Swerve, you can.
If you are using erythritol Swerve granular or powdered, use the equal amount as sugar, so 1/3 cup.
Peanut Butter
This chocolate peanut butter cheesecake works better with creamy natural peanut butter than crunchy peanut butter.
f you are looking for some crunch, a great option is to do it in the topping. Use chocolate chips for the crunchy texture.
If you must, you can also do a layer of peanut butter between the cream filling and crust.
It wouldn't quite be a peanut butter filling but it adds a bit more of the nutty flavor to the cake without making the entire cheesecake heavier and thicker.
Crust
On the bottom of the springform pan is a delicious layer of sugar-free Oreo crust.
This is essential if you are looking for a chocolate element in this peanut butter cheesecake.
If you are looking for even a stronger chocolate flavor in the chocolate cookie crust, I suggest adding a tsp of cocoa powder to the crumb.
3 Tips to Make the Best Cheesecake
There are a couple of things that make this no-bake cheesecake the crave-worthy, 5-star-rating indulgences on a keto diet.
It's the perfect smoothness of the cream cheese filling and its density. You don't want the filling to be so thick and heavy that resembles the density of fat bombs.
But also, you don't want your cheesecake filling to be too soft. You want creamy cheesecake that'll melt in your mouth.
These tiny but big tips make a huge difference in your chocolate peanut butter cheesecake at the end.
Tip 1: Use an Electric Mixer
Whether it's a hand mixer or stand mixer, using an electric mixer with a paddle attachment when beating the cheese allows you to have a very creamy filling with no lumps.
This smooth and creamy consistency is just hard to achieve with a regular whisker. Also making whipped cream using an electric mixer is so much faster than beating it by hand.
Tip 2: Use a Dry Bowl for Mixed Cream
The bowl of a stand mixer (or hand mixer) you are using to make whipped cream should be completely dry. If there is even a little bit of wetness in the bowl, heavy cream would have a hard time forming and having a silky texture.
Tip 3: Keto Diet Friendly Granulated or Powdered sugar
When to add the sugar alternative to the cream mixture depends on the type of sweetener you use.
If you are using a granulated or liquid sweetener, be sure to add it where it's specified in the recipe. Don't try to add it to the heavy cream or when you are beating the cream.
If you are using powdered sugar, you can add it in step 4 of the recipe when you start to see soft peaks form.
Low-carb Peanut Butter Cheesecake Recipe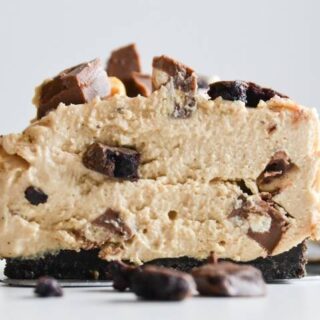 Low-carb Peanut Butter Cheesecake Recipe
Total Time:
4 hours
30 minutes
This creamy, decadent, and rich cheesecake is a true heavy treat on a low-carb diet. If you love chocolate, peanut butter, and cheese, you'll love this low-carb chocolate peanut butter cheesecake recipe. With its low-carb content, you can enjoy a slice even on your keto diet meal plan.
Ingredients
Oreo Crust
2 cups crushed Keto-friendly Oreos
4 tablespoons or 1/4 cup butter melted
1 pinch of salt
Creamy Peanut Butter Filling
1 tablespoon creamy peanut butter use natural peanut butter free of added sugar
8- ounce full-fat cream cheese room temperature
1 cup heavy whipping cream
7 tablespoons Allulose this replaces 1/3 cup brown sugar. If you are using another sweetener like stevia, do conversion based on this measurement
1 teaspoon vanilla extract
2 tablespoons lemon juice
1.5 teaspoon powdered gelatin
2 tablespoons water
Instructions
Crust Instructions
Mix the cookies, melted butter, and salt in a food processor until you have a fine crumb.
Press the crumb firmly to the bottom of the spring form pan. 3. Keep it in the fridge until you need it and are ready to pour the cake filling.
Filling Instructions
In a large mixing bowl, add the room temperature cream cheese. Mix it until smooth using a hand mixer or spatula.
Add in half of the sugar alternative and mix. Add the rest and mix it again. Add the peanut butter, vanilla extract, and lemon juice to the cheesecake batter and beat it on low speed until there are no lumps.
In a small bowl, add gelatin powder and water. Whisk with a fork. Put it in a microwave for 20-30 seconds and set it aside. Once it cools down, add it to the cream cheese batter.
Prepare another large bowl and add the heavy cream. Turn the mixer on high speed, and beat the heavy cream until stiff peaks form. To make the best-whipped cream, keep your mixing bowl and your mixer's whisk attachment in the freezer for 20 minutes prior to using. Your heavy cream should also be as cold as can be before making it.
Using a spatula, add the whipped cream to the cream batter and gently fold in. Don't use any type of electric mixer for this step including the stand mixer. Scrape the sides of the bowl each time you fold in the whipped cream and mix it into the cheesecake mixture. If you are adding sugar-free dark chocolate chips, Reese's peanut butter cups (keto diet approved version), or other chocolate chunks, add them in this step. To keep the cake low-carb and sugar-free, skip milk chocolate chips. Instead, use lily's chocolate chips. Lily's has sugar-free white chocolate, which also works for this recipe too.
Gently pour the mixture over the Oreo crust. Smoothen the top of the cheesecake using a big spoon or spatula.
Put plastic wrap over the cake pan and chill it in the fridge for 3-4 hours.
Nutrition Information:
Yield:

16
Serving Size:

1
Amount Per Serving:
Calories:

391
Total Fat:

30g
Saturated Fat:

16g
Trans Fat:

1g
Unsaturated Fat:

12g
Cholesterol:

62mg
Sodium:

290mg
Carbohydrates:

28g
Fiber:

1g
Sugar:

18g
Protein:

4g
Pretzel crust (use low-carb pretzels)
Graham cracker crust (again, use sugar-free graham crackers. Catalina Crunch has graham crackers you can use). Add a drop of vanilla to the graham cracker crust for aroma.
Since this is a no-bake cheesecake recipe, don't add any flours like coconut and almond flour to the mixture. Flours are needed when you make baked cheesecake.
Check Out Other Delicious Dessert Recipes
(Visited 111 times, 1 visits today)