Are you looking for an easy tortilla soup recipe that is keto-friendly?
This delicious low-carb tortilla keto soup recipe is hearty, spicy, and perfect for any day of the week.
Pretty much it has everything you want in a bowl of tortilla soup. This is especially true if you love the heat of Jalapeno peppers.
If you are into spicy soups, this will definitely be your go-to low-carb soup recipe.
Without compromising delicious, rich flavor, this tortilla soup brings the heat like no other.
The aroma from those freshly ground spices will bring a whole new level of experience.
And while there is no actual tortilla in this soup, the flavors of the traditional Mexican tortilla soup is certainly there.
And you can always top it with crunchy keto chips like pork rinds.
The original way of making this soup starts with browning the chicken thighs in a saucepan, I skip all that.
Instead, I use rotisserie chicken and strip the carcass of meat.
It's a quick way to replace any cooked chicken in the recipe, and it works perfectly for this soup.
I also like to note that since it's a high-fat, low-carb recipe, it's perfect for a keto diet and other low-carb diets.
But don't hesitate to serve non-dieters too. It's one recipe that sure pleases the whole crowd and has them asking for a second.
If you plan to store it for lunch the next day, I suggest doubling the recipe.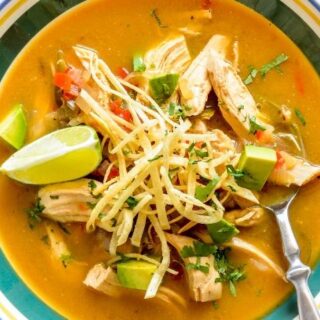 Keto Chicken Tortilla Soup Recipe
This low-carb tortilla soup recipe is super easy to make and Keto-friendly. If you're in the mood for a bowl of Mexican tortilla soup, give this recipe a try.
Ingredients
1/2 pound rotisserie chicken, stripped the carcass of meat
tap here
1 whole onion, diced
2 cloves garlic, minced
1 whole carrot, peeled and diced
1 stalk celery, diced
1 cup tomatoes, diced
1 whole jalapeno pepper, diced
2 cups chicken stock
2 tsp chili powder, ground
1 tsp cumin powder, ground
1/4 tsp cayenne pepper, ground
1 cup full-fat cream cheese
1/2 cup Heavy cream
1/4 cup cilantro, fresh and chopped
Instructions
Remove the chicken meat from the rotisserie chicken and put it aside.
Heat the avocado oil in a large saucepan over medium-high heat. Saute the onion and garlic for 3 minutes until they are golden brown and softened.
Stir in the carrot, celery, jalapenos, tomatoes, and stripped chicken meat. Add in all the spices and mix for 1 minute.
Pour in the chicken stock and bring the soup to a boil.
Reduce the heat to low and simmer for 20-30 minutes until the vegetables are soft and tender.
Stir in the heavy cream and cream cheese. Stir until cheese is melted. If the soup is too thick, add in 1/8 cup of chicken stock to make it thinner.
Divide the soup into 4 bowls and garnish it with chopped cilantro. Serve warm and enjoy!
Nutrition Information:
Yield:

4
Serving Size:

1
Amount Per Serving:
Calories:

565
Total Fat:

43g
Saturated Fat:

22g
Trans Fat:

0g
Unsaturated Fat:

16g
Cholesterol:

191mg
Sodium:

660mg
Carbohydrates:

15g
Fiber:

2g
Sugar:

8g
Protein:

31g
(Visited 2,989 times, 2 visits today)