This oven-baked salmon with low-carb veggies recipe is simple and tastes amazing.
If you're looking for a simple and delicious dinner idea that is healthy, this salmon recipe is perfect for you.
Salmon is naturally packed with healthy fats such as omega 3s and important nutrients, such as protein and vitamin D.
Whatever diet you're on keto, pescatarian, whole30, or paleo, this recipe is good.
Fresh wild salmon doesn't take much to make it, and it's an insanely delicious healthy dinner.
When salmon is wild and fresh, it has a rich, vivid reddish-orange color and the meat is fatty and meaty.
Quality wild salmon is a great source of omega 3 fatty acids, protein, and vitamin D.
The marine healthy fats known as omega 3s are said to improve brain function as well as nerve health.
It's one fat you want to make sure to take plenty of on a diet like a keto diet.
Thankfully, cooking this keto dinner is effortless. It also only requires 4 things to season the fish.
Since fresh fish isn't something that lasts well in the fridge, so I recommend buying the fish the same day.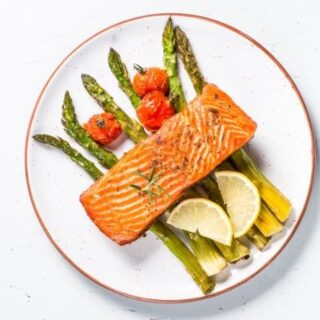 Baked Salmon With Low-Carb Veggies
You're going to love this 30-minute baked salmon recipe. It's tender, juicy, and full of flavors. Salmon is also rich in healthy omega-3 fatty acids. Give this salmon recipe a try tonight!
Ingredients
4 oz salmon fillets, skin removed
2 tbsp amino soy sauce
1/4 tsp sea salt
2 tbsp sesame oil
1 tsp fresh herbs (thyme, rosemary)
Veggies
8 spears asparagus, woody ends removed
1 cup cherry tomatoes
Instructions
Preheat the oven to 400 degrees F.
Pat the salmon dry with paper towels and season with salt and pepper.
Lightly grease a baking dish with avocado oil and place the salmon fillets.
Arrange the trimmed asparagus and cherry tomatoes on the sides of the salmon. Drizzle the veggies lightly with oil and roll to coat. Sprinkle both veggies and salmon with salt and pepper.
In a small bowl, whisk together the amino soy sauce, and sesame oil. Pour the mixture over the salmon and veggies to bake for 15-18 minutes until the salmon is fully cooked.
Sprinkle the fresh herbs and serve.
Nutrition Information:
Yield:

4
Serving Size:

1
Amount Per Serving:
Calories:

147
Total Fat:

11g
Saturated Fat:

2g
Trans Fat:

0g
Unsaturated Fat:

8g
Cholesterol:

18mg
Sodium:

619mg
Carbohydrates:

6g
Fiber:

2g
Sugar:

2g
Protein:

9g
Related recipes:
Have you made this yet? Let us know how it went in the comments below!
(Visited 598 times, 1 visits today)