Bread is one of the foods you absolutely have to avoid on the ketogenic diet.
In fact, 1 slice of whole-grain toast contains 12 grams of carbohydrates.
This carb content is hefty when a keto diet has you lower your carb intake to 5-10% of your total calories.
But luckily, by using almond flour in lieu of wheat flour, you can make bread that's keto-friendly in low carb.
The best part is, that it doesn't crumble or come out of a toaster in one piece.
It's a perfect sandwich bread that replaces any glutinous bread.
Because this recipe doesn't use yeast, you don't need to raise it. All it takes is 45 minutes including 30 minutes of baking time.
It's super easy and fail-proof.
If you are ready, let's get started on this delicious low-carb, gluten-free almond bread.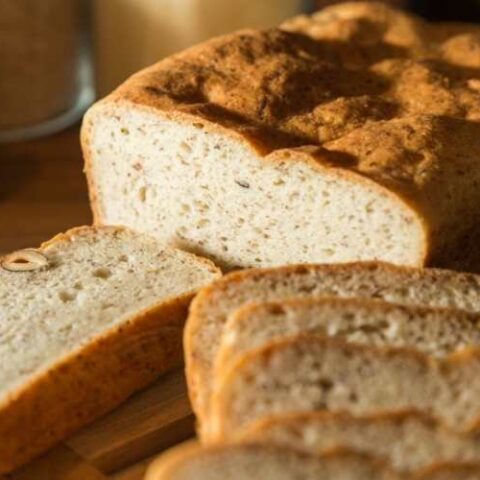 Keto Almond Flour Bread Recipe
This delicious gluten-free, almond flour bread comes together quickly and smells so good when it bakes. This simple bread is keto and paleo-friendly and works great with savory or sweet toppings.
Ingredients
2 cups almond flour
1/2 tsp sea salt
4 oz shredded cheddar or mozzarella cheese
2 tsp baking powder
10 large Egg whites
1/4 cup butter, melted, room temperature
2 tbsp sesame seeds
Instructions
Preheat the oven to 325 degrees F. Line a 9 by 5-inch loaf pan with parchment paper.
Place the almond flour, salt, cheese, and baking powder in a mixing bowl and mix until well combined.
In a separate bowl, whip the egg whites until stiff using a mixer. Add the melted butter to the whipped egg whites. Gently fold in the almond flour mixture, keeping as much air in the whipped egg whites as possible.
Transfer the batter to the loaf pan and sprinkle 2 teaspoons of the sesame seeds on top. Place the pan in the middle rack of the oven.
Bake until the loaf has risen by about one-third and is golden brown, about 35 minutes. Remove from the oven and allow to cool completely on a wire cooling rack before slicing.
Store in an airtight container in the refrigerator for up to 4 days.
Nutrition Information:
Yield:

12
Serving Size:

1
Amount Per Serving:
Calories:

210
Total Fat:

18g
Saturated Fat:

5g
Trans Fat:

0g
Unsaturated Fat:

11g
Cholesterol:

21mg
Sodium:

331mg
Carbohydrates:

5g
Fiber:

3g
Sugar:

1g
Protein:

10g
(Visited 253 times, 1 visits today)