Creamy, velvety Greek yogurt is a real delicious treat. It can also be a quick breakfast rich in protein.
But when you are eating keto, you probably wonder "Is yogurt keto?".
Certainly, not all yogurt, including Greek yogurt brands and varieties are keto-friendly.
But a high-fat content, plain Greek yogurt can be a great keto food with a minimum carb content.
Not only that, it can be a healthy vegetarian source of protein and calcium. If you choose plain yogurt, it also has no added sugar.
It's a staple in my kitchen for many keto cooking. 
It can be used to thicken your smoothies, and add to baked goods, but best of all, enjoyed as is. 
You can eat as is with some added garnishments like shredded nuts, coconuts flakes, and nuts.
Low-carb fruits like berries also offer an added sugar-free way to sweeten your yogurt cup.
If you want to include Greek yogurt in your keto diet, you must pick the right one. 
What's more, know your Greek yogurt's macro content, so you can pair it up with the right toppings.
Is Greek Yogurt Keto?
Plain, full-fat Greek yogurt can be a keto-friendly food.
While it's not a carb-free dairy product, its content can be low enough to be enjoyed in moderation.
In a typical 3/4 cup of plain Greek yogurt, there are 9 grams of total fat, 5 grams of total carbs with 0 grams of fiber.
It also offers 15 grams of protein with 200mg of calcium, or 15% of the daily recommended intake for adults.
It's one food shown to help increase satiety and reduce appetite.
If you are on a weight loss plan, it's a great breakfast choice to keep you full all morning.
To keep your yogurt cup as keto can be, top it with other fatty foods like coconut flakes, MCT oil, and even some nuts.
In a sense, picking keto yogurt toppings is like a bit of mixology and puzzles.
You want to compensate for the fat with other fatty foods, but not so much to go over your carb budget.
The good news is, I have cracked the garnishment combo and it's as delicious as can be.
So Which Store-Bought Yogurts Are Keto-Friendly?
I have looked into many Greek yogurt brands and cups to scout out my best keto yogurt cup.
One that stood out all these years for me is Fage Total 5% Plain Greek Yogurt.
It has 5 grams of total (and net) carbs, 9 grams of total fat, and 15 grams of protein per serving.
Though there is no added sugar, in every serving of 3/4 cup of yogurt, there is 5 grams of sugar.
And while it's not free of sugar and carb, it's much lower than most yogurts on the market.
I keep a 17 oz jar in my fridge for everything from quick breakfasts and yogurt pancakes.
When enjoying Greek yogurt as breakfast, I like to add nuts, coconut flakes, and raspberries. 
If I'm in the mood for chocolate, I also add cacao nibs.
If you need a boost of healthy fat, I also recommend adding a tablespoon or so of MCT oil to your mix. 
Getting hungry? Let's look at how I make my keto Greek Yogurt breakfast.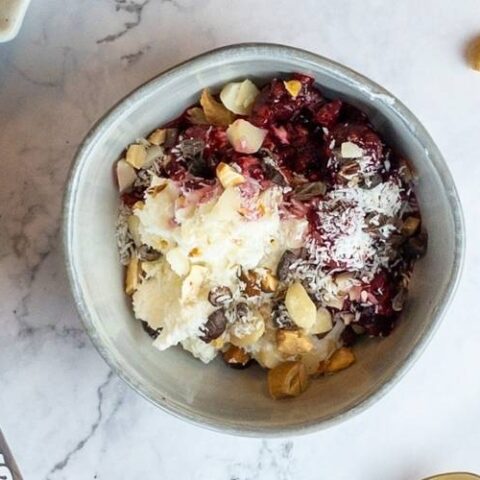 Keto Yogurt Recipe with Raspberry and Crushed Nuts
5-minute keto Greek yogurt recipe with crushed nuts, coconut flakes, cacao, and raspberries for a quick breakfast or snack. Healthy and delicious!
Ingredients
3/4 cup plain Greek yogurt
1/4 cup frozen raspberries
1 tsp cacao nibs
1 tsp coconut flakes
1 tbsp crushed nuts (macadamia, almonds, and cashews)
Instructions
Serve 3/4 cup of plain Greek yogurt into a small cup.
Add frozen raspberries.
Top with cacao nibs, coconut flakes, and crushed nuts like almonds, cashews, and macadamia nuts.
Nutrition Information:
Yield:

1
Serving Size:

1
Amount Per Serving:
Calories:

204
Total Fat:

8g
Saturated Fat:

2g
Trans Fat:

0g
Unsaturated Fat:

4g
Cholesterol:

9mg
Sodium:

90mg
Carbohydrates:

15g
Fiber:

4g
Sugar:

9g
Protein:

20g
(Visited 452 times, 1 visits today)