Cutting carbs? No problem! You can still enjoy smoothie perfection by blending up one of these 7 heavenly low-carb keto smoothie recipes.
Imagine starting your day with a lush Matcha Smoothie Bowl drenched in coconut milk and topped with nutty, crunchy granola. Or a frosty Mixed Berry Smoothie swirled with rich almond butter and loaded with fat-burning power.
These 7 smooth, mouthwatering keto smoothies are clean and delicious. With healthy fats from nuts, avocado, and coconut milk, they'll leave you feeling full and focused for hours.
Not only that, they are an excellent way to satisfy your sweet cravings without sabotaging your diet! Zero added sugars, zero guilt!
Whether you prefer green smoothies loaded with spinach, can't resist chocolatey flavors, or want something fruity, we've got your perfect low-carb smoothie recipe here.
Let's kick carb cravings to the curb and start blending up these irresistible keto-approved smoothies that are perfect for meal prepping or grabbing on the go!
Just scroll down to get all 7 recipes…
7 Delicious Keto Smoothie Recipes
How to Make a Keto Smoothie 
To make a keto smoothie that's both nutritionally satisfying and delicious to taste, you need the right ingredients. 
Since the keto diet limits carbs, you need keto-friendly ingredients.
While each recipe card has a different ingredient combo, here are some of the staple items you should have on hand for keto smoothies.
Liquids:
Full-fat coconut milk
Coconut milk
heavy cream
Unsweetened almond milk Cashew milk
Plain Greek yogurt
Coconut water
Black Coffee
Fruits and Veggies:
Blackberries
Raspberries
Watermelon
Avocado
Celery
Cauliflower
Spinach
Other greens
Cilantro
Mint
Flavors:
Nut butter (almond butter, peanut butter, cashew butter)
Nuts and seeds (peanuts, almonds, macadamia nuts)
Keto sweeteners (monk fruit)
Lemon juice /Lime juice
Ginger
Cinnamon
Matcha powder
Sugar-free chocolate
Cacao powder
Optional Add-ons:
Ice cubes
Collagen
Protein powders
Calcium
MCT oil
Coconut oil
Heavy whipping cream, whipped
Cacao nibs
Having these low-carb ingredients in the fridge/ pantry will make it easier for you to whip your keto smoothie in minutes.
Step 1: Choose a liquid
The first step in making a keto smoothie is to choose your liquid. You don't have to stick to one and can combine a few.
To make a creamy smoothie, you need thicker liquid like yogurt and coconut cream.
Also if you are adding other thickening ingredients like avocado and cauliflower, you may want to stick to thinner liquid like almond milk.
Also, liquids offer an easy way to make your low-carb drinks high-fat. Pick a liquid rich in fat. If not, be sure to add other fat sources like MCT oil to supplement your fat intake. 
Regardless of your liquid choice, be sure to pick an unsweetened, plain variety to avoid sugar.
Step 2: Add Fruits/Vegetables
The Keto diet is mostly void of fruits, but some of these lowest-carb fruits can still make the cut. Fruits like acai, avocados, blackberries, and watermelon are amongst the lowest in sugar content.
You can use either fresh or frozen fruits, but some fruits like acai and star fruits mostly come in a puree. That's perfectly okay and actually helps add creaminess and velvety texture to your drink.
Low-carb vegetables are an essential part of a low-carb lifestyle. They help add vitamins and minerals to your keto recipe. With the right flavor combo, you often even taste the bitterness.
Step 3: Add Flavors and Textures
This is the best part of making a keto smoothie. If you are looking for a keto recipe to make your low-carb breakfast smoothie, add peanut butter. Your keto smoothie can have your favorite breakfast flavors like peanut butter and jelly with raspberries.
If you are a chocolateholic, you can add a teaspoon of cacao powder to make your drink a chocolate-heaven. 
Also, be sure to add your choice of sugar-free sweetener if your other ingredients lack sweetness. Stevia and monk fruit are naturally derived sweeteners and a great choice if you want to avoid artificial sweeteners.
Step 4: Add Optional Add-ons
Whether it's whipped cream or a dash of matcha powder, add-ons truly add real value to your keto smoothie.
This is also where you can include an additional dose of fat to make it truly fit for your keto lifestyle. Play with different optional ingredients to make your drink a real treat on a hot day.
Below I will share 7 of my favorite smoothie recipes you can enjoy on your low-carb diet, keto.
7 Easy Low-Carb Keto Smoothie Recipes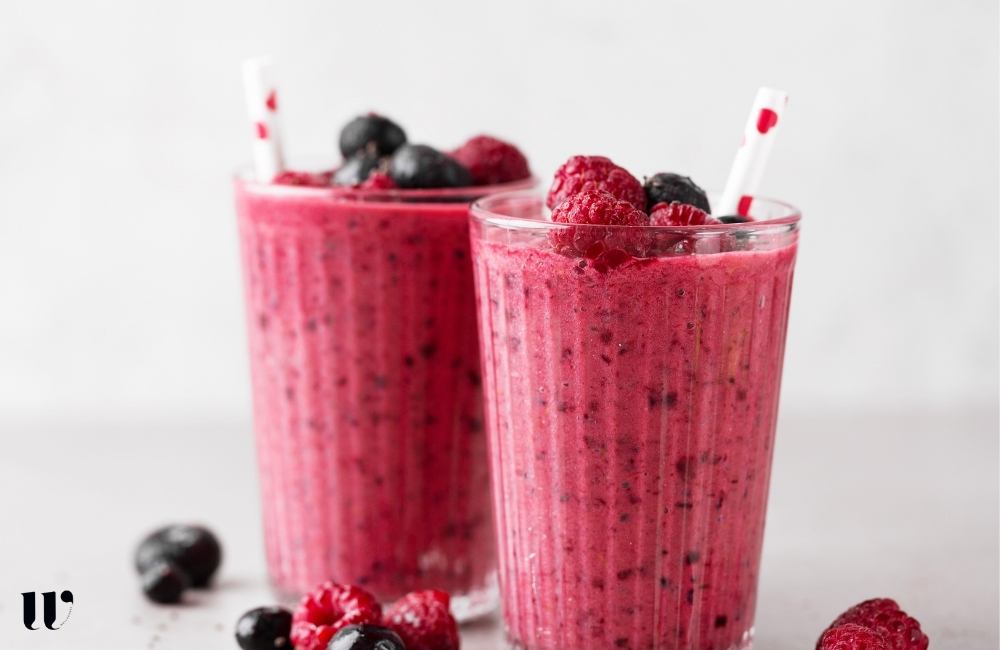 1. Chocolate Macadamia Nut Smoothie
Thankfully chocolate is one of the few foods you can indulge in while on the keto diet.
As a devoted chocolate lover, I can literally eat chocolate every day. And this smoothie makes it all possible.
Not only that, this chocolaty goodness tastes more like a dessert, which most of us can appreciate.
To confirm, it's perfectly keto-friendly and won't kick you out of kick ketosis, so you can enjoy it without guilt.
It also comes with all the convenience of smoothies.
It's fast, easy, and portable, great for a quick breakfast on those busy mornings.
It's packed with healthy fats and essential nutrients, all wrapped up in sweetness.
Macadamia nuts provide healthy, monounsaturated fats while cacao adds antioxidants. 
They keep your gut happy, and inflammation at bay, and satisfy your sweet cravings.
All in all, it nourishes your body and boosts your energy spiking your blood sugar as other drinks do.
Make: 1 1/2 cups
Ingredients:
1 cup unsweetened vanilla almond milk
2 tablespoons macadamia nuts
1 teaspoon MCT oil
1 tablespoon coconut butter
2 tablespoons chia seed
1 tablespoon cacao powder
1 stick of collagen peptides
Directions:
Measure all your ingredients. Add all of them to a blender and hit blend.
Run the blender for a few minutes until it reaches the desired consistency.
Pour into a glass and enjoy. If you are saving for later, be sure to store it in an airtight container.
Nutritional Per Serving: (1 smoothie): Calories: 460 Fat: 41 g Protein: 10 g Carbohydrate: 22 g Fiber: 14 g Net Carbohydrate: 8 g
2. Matcha Green Smoothie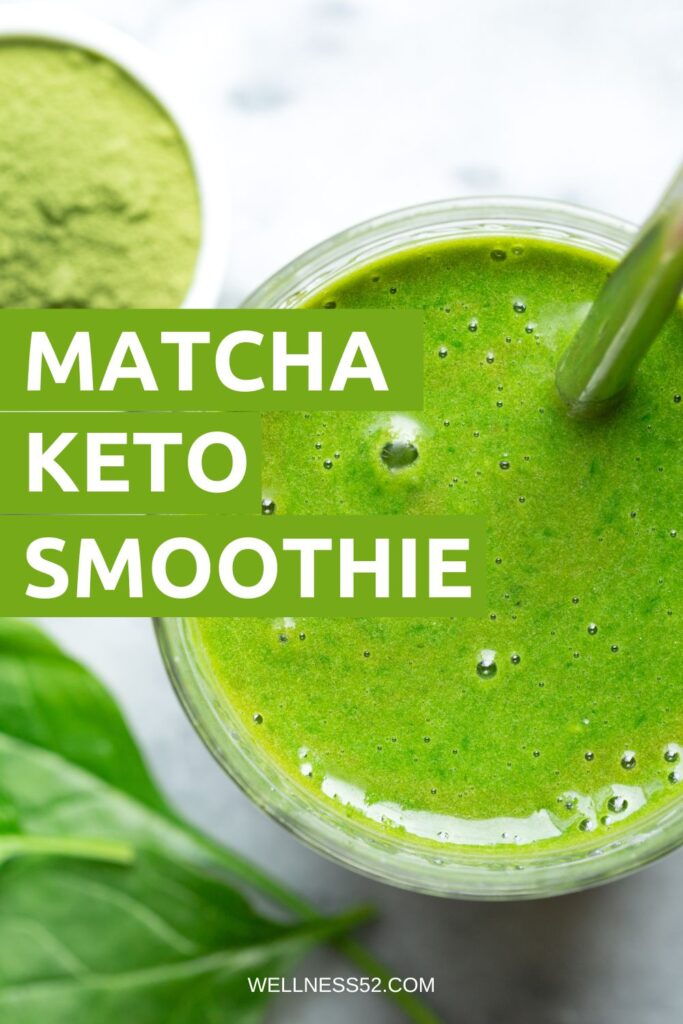 If you're looking for an energy booster and nutrient-rich smoothie recipe, look no further.
This smoothie recipe will literally knock your socks off!!!
Packed with a bunch of superfoods, it is utterly delicious.
Not to mention, a tad of bitterness from green tea is truly addicting. It's one drink you find yourself making three days in a row before switching it up.
But what's really cool about this smoothie is not its deliciousness. It's the nutritional values that come with it.
This keto green matcha smoothie contains healthy fats, potassium, and magnesium.
It's also packed with 10 grams of protein, 8 grams of carbs, and grams of fiber.
It's a low-carb protein shake that can boost your metabolism and increase satiety.
Just a word of caution. With a half avocado and coconut milk, this smoothie is super filling. You may want to treat it as a meal replacement shake than a mid-day snack.
Here's what you to make this keto smoothie.
Ingredients:
1/2 medium avocado
1/2 cup fresh spinach or kale
1/4 cup plain whey protein powder
1/2 cup coconut milk
1 tablespoon extra virgin coconut oil
1 teaspoon Epic Matcha green tea powder
5-8 drops liquid stevia extract (or 2 tbsp Erythritol)
1/2 cup water
Ice cubes
Directions:
Add all the ingredients to a blender. Add ice cubes as needed and pulse until smooth.
Pour into a glass and enjoy!
Nutrition Per Serving: 338 calories, 27g fat, 10g protein, 8g carbohydrate
3. Triple Berry Smoothie
I love this triple berry keto smoothie recipe. It's filled with all my favorite low-carb fruits: raspberry, blackberries, and strawberries. They're the lowest in carbohydrates.
Berries are high in fiber, vitamin C, and antioxidants. Adding berries into your keto diet can help prevent many chronic illnesses and reduce symptoms.
Berries are a good example of good things that sometimes come in a small package!
If you are using fresh berries, add 1/4 cup of ice cubes when blending. You can also pop them in the freezer a day before to freeze them.
Ingredients:
1/4 cup strawberries
1/4 cup raspberries
1/4 cup blackberries
2 cups of coconut milk
1 tablespoon shaved coconut, (Unsweetened for garnish) (optional)
Directions:
Add all the ingredients except the shaved coconut to a blender. Blend until smooth.
Divide between glasses and top with shaved coconut.
Makes for 2 glasses.
4. Keto Green Smoothie
Green smoothies are not only unique in color, but they also offer unique health benefits.
This keto green smoothie is no different.
Greens such as parsley, dandelion, and chicory are nutritional powerhouses. They are loaded with antioxidants, vitamins, and minerals.
A green smoothie on the keto diet is a great way to improve digestive health and help the body get rid of toxins.
Not only that, vitamins and minerals from the green help satisfy your hunger and detox your body. After all the meat and cream in a ketogenic diet, a superfood reset feels more like a must.
Ingredients:
1 cup of filtered water
1/2 avocado
1 tablespoon MCT oil (Simply Good Fats)
1/2 organic cucumber
1 large handful of dark leafy greens
1 – 2 leaves of dandelion
2 tablespoons parsley
2 tablespoons hemp seeds
Juice from 1 lemon
¼ teaspoon turmeric powder
Makes: 1 serving
Instructions:
Pour all the ingredients into a high-power, high-speed blender.
Run it until it is fully blended and has a smooth texture.
Pour in a glass and enjoy!
Nutrition Per Serving: 360 calories, 33g fat, 10g protein, 12g carbohydrate, 8g fiber, 4g net carbohydrate.
5. Strawberry Smoothie Recipe
When you are on a keto diet, anything that can add a sweet taste without adding your carb count is a true gem.
This strawberry smoothie recipe is a perfect low-carb smoothie that satisfies any sweet cravings. It's still low-carb and very filling that you can easily treat it as a meal replacement.
This recipe is also gluten-free, vegetarian, and dairy-free.
Ingredients:
Protein powder, vanilla1/2 scoop (1/3 cup ea) (16g)
Almond butter 1 tbsp (16g)
Almond milk 1/2 cup (118mL)
Frozen strawberries 1/3 cup, unthawed (49g)
Serve: 1
Directions:
Add all the ingredients to a high-speed blender.
Blend until it's fully mixed and has a smooth consistency. Add water or more almond milk if it's too thick.
Pour in a glass and enjoy!
Nutrition per cup: 230 calories, 18g protein, 7g carbs, 13g fat (per meal)
6. Coconut Chia Smoothie
This is another one of the recipes that can satisfy your sweet cravings while keeping carbs low.
Not only that, with both coconut cream and Greek yogurt, it's fully loaded with healthy fats in one drink.
On your workout day, add in a scoop of non-sugar protein to make it a perfect keto post-workout smoothie. As is, you can enjoy it as a low-carb breakfast smoothie.
Ingredients:
1/4 cup frozen blueberries
1/4 cup full-fat Greek yogurt
1/4 cup coconut cream or heavy cream
1/2 cup unsweetened cashew or almond milk
1/4 tbsp coconut oil
1/4 tbsp ground chia seed
1/4 tbsp keto Sweetener
Directions:
Add all the ingredients to a high-speed blender. Run it until it is fully blended and reaches a smooth texture.
Pour into a glass or mason jar to take on the go.
Nutrition serving per 1 glass: 249 calories (190 from fat), 21.07g fat, 11.26g carbs, 6.23g protein
7. Bulletproof Smoothie
If you are looking for an easy low-carb breakfast smoothie, this is it. It's a blended take of our butter and MCT bulletproof coffee.
It's icy, creamy, and highly energizing. If you are not into hot coffee, this iced coffee drink is a great replacement.
With MCT oil, butter, and heavy cream, this caffeinated coffee is one drink that'll wake you up and give you a boost of energy.
It's the perfect low-carb breakfast smoothie that's sure to get you going in the morning.
Ingredients:
8 oz organic black coffee
1/4 cup heavy cream
1 tbsp butter or ghee
1/2 tbsp MCT oil
Sugar-free sweetener, as needed
1/4 cup ice cubes
Directions:
Brew 8 oz of organic coffee. Set aside until it cools to room temperature. You can also chill it in the refrigerator to cool it faster.
Pour the coffee and the rest of the ingredients into a blender.
Blend until it's creamy and rich. Enjoy cold!
Final Word On Keto Smoothie Recipes
There you have it. 7 easy keto smoothie recipes that'll help you achieve and maintain ketosis.
These no carbs smoothies are high in fat, fiber, and sugar-free.
Whether you're looking for a quick healthy breakfast or a midday snack, these smoothie recipes are a great option.
You can occasionally enjoy one or two as a meal replacement. They'll make convenient breakfast options for those busy mornings.
(Visited 7,292 times, 7 visits today)