Need some healthy, light, and delicious keto salad recipes you can eat for lunch, dinner, or side dishes?
These 10 delicious keto salad recipes are perfect in every way.
They are filling and nutritionally dense and you can alter the serving size of many of them, making them either a side dish or an entire meal.
Not to mention, their flavor profiles are amazing and make them totally crave-worthy.
Best of all, these keto recipes are so satisfying they will make you forget you are on a low-carb diet. No doubt, you'll find your perfect salad in this list of easy keto recipes.
If you don't believe me, I understand.
Salads tend to have a bad rep from dieters. People think they are boring and tasteless, but that can't be further from the truth.
With the right mix of ingredients, salads can be delicious, filling, and satisfying. Plus they are a great way to pack in tons of veggies and fiber.
The ketogenic diet skimps on carbs, but salads are the ideal food for packing in much-needed fiber and nutrients.
Fiber, antioxidants, and vitamins are an essential part of any healthy diet, even one low in carbs.
Salads also tend to be low in calories, making them ideal for keto dieters looking to lose weight.
Plus, the lack of croutons or other high-carb toppings makes these salads perfect for anyone following a gluten-free diet as well (and you won't find any hidden sugars either).
From eggs to chicken, to bacon, these keto-friendly salad recipes are perfect as a side dish or an entire meal. So get ready to up your greens intake with these 10 delicious low-carb recipes.
Here are 10 simple and delicious keto salad recipes.
Check out our easy-to-follow 7-Day Keto Diet Plan for Weight Loss
1. Keto Big Mac Salad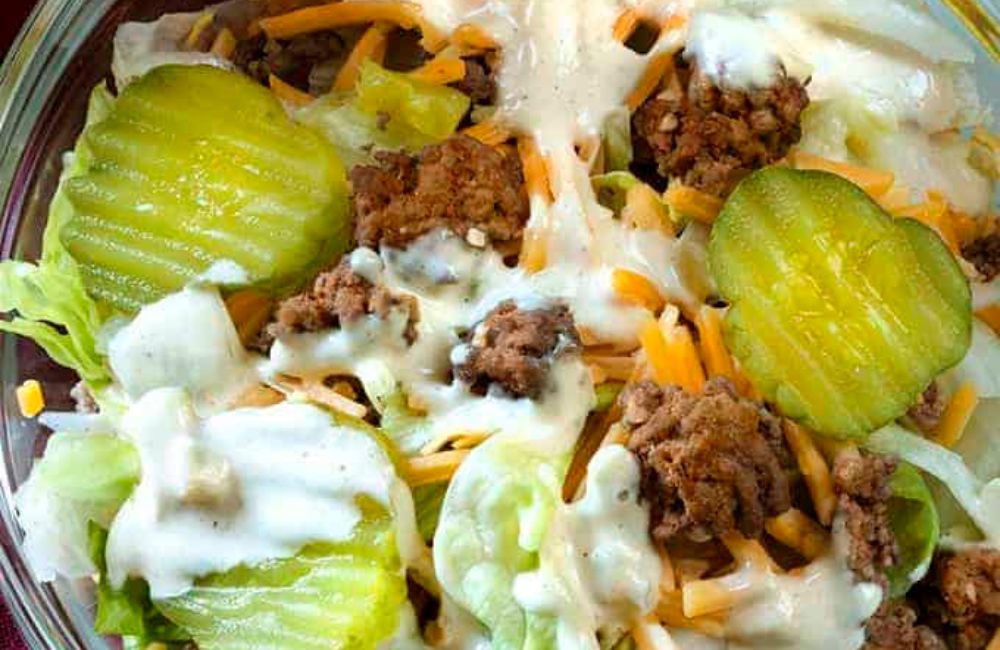 If you're craving McDonald's on a keto meal plan, the big mac salad is the perfect dish to satisfy your cravings.
Plus, make your own keto salad dressing with mayonnaise, mustard, and vinegar so it tastes just like the real thing!
You can even sub keto ranch dressing or honey mustard if you're not a fan of Big Mac Sauce. If you're going to use a bottled dressing, be sure to check the nutrition label to make sure it fits into your macros.
This salad is packed with leafy greens, onions, pickles, cheese, and ground beef. Leave off the cheese to make this perfect for a paleo diet as well. Plus, this recipe is full of simple ingredients that are easy to find at the grocery store. Get all the joys of a Big Mac, without the excessive grams of carbs from the bun.
Head over to twosleevers.com for the full recipe and instructions.
2. Grilled Chicken Avocado Salad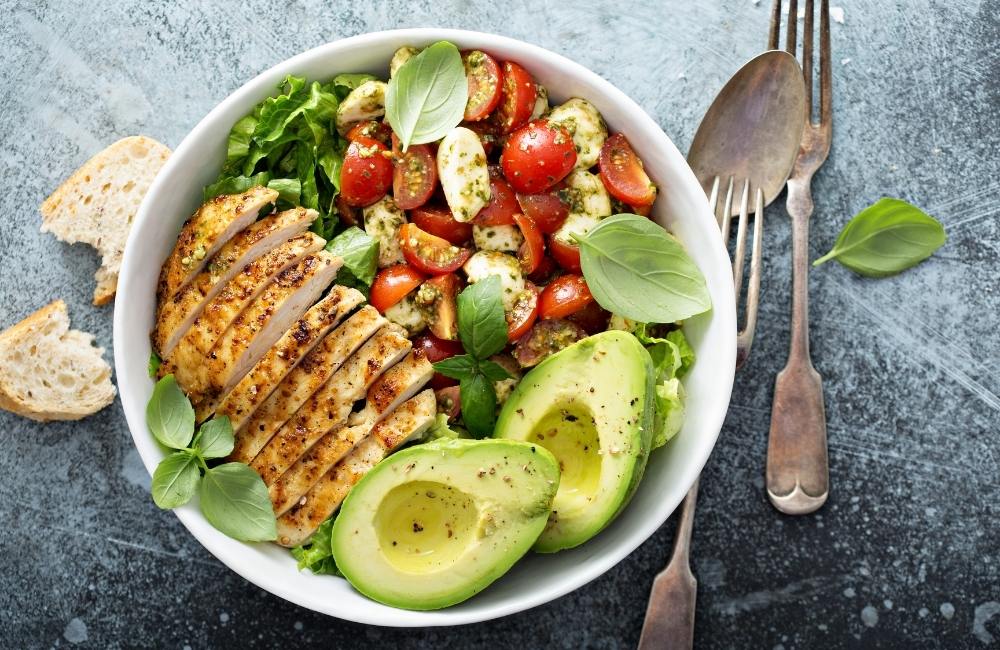 This grilled chicken avocado salad recipe is perfect for the keto diet. It's full of greens, high in protein, and packed with flavors. It's refreshing, low-carb, and highly satisfying.
You can prep this salad with chopped lettuce, cucumber, and avocado. As for toppings, it has grilled chicken and savory lemon olive oil dressing.
If you're not a fan of hot sauce, you can change up the marinade for the chicken, using anything from soy sauce, to cilantro and lime, to balsamic vinegar. This would also be perfectly sprinkled with some feta cheese if you'd like to add a little extra fat. 
You'll for sure fall in love with this flavorful protein-packed keto salad. Plus the ingredient list is simple and can be prepped ahead of time and kept in the refrigerator to eat throughout the week. 
Chicken Breast
2 small free-range organic chicken breasts
2 tablespoons hot sauce
Salt and black pepper
The Salad
5 cups lettuce — chopped
1 cup cucumber — sliced
½ avocado — sliced
½ cup red onions — sliced
1/2 cup cherry tomatoes
Keto Salad Dressing
1 tablespoon freshly squeezed lemon juice
2 tablespoons extra virgin olive oil
A pinch of red crushed pepper
Salt and fresh ground black pepper to taste
Nutrition Facts: Amount per serving (1/2) — Calories: 360, Fat: 23g, Saturated Fat: 4g, Cholesterol: 70mg, Sodium: 774mg, Carbohydrates: 10g, Fiber: 5g, Sugar: 6g, Protein: 27g
3. Charred Shrimp and Avocado Salad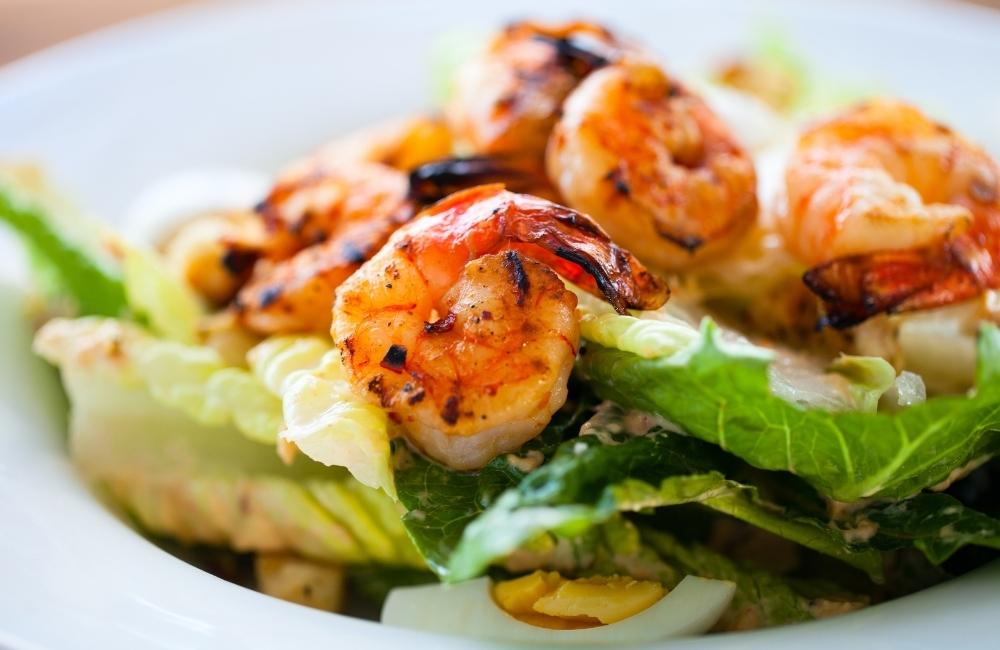 You may only think of leafy greens when you think of salads, but this quick and easy salad is a great way to try something new.
Packed with fat and protein, this easy keto recipe will keep your carb count low.
We think lemon juice and avocado oil are perfect for this recipe, but feel free to add a creamy dressing if that is more your style!
Ingredient:
2 1/2 lb. large peeled and deveined shrimp
5 tbsp. avocado oil
Kosher salt
Pepper
2 tbsp. fresh lemon juice
1/2 small red onion, thinly sliced
1/2 English cucumber, sliced into half-moons
1/2 bunch Upland watercress
1 avocado, quartered
Directions
Toss shrimp with 2 tablespoons avocado oil and 1/2 teaspoon each salt and pepper.
Then heat the grill pan, grill, or broiler. If desired, you can also set aside half of the shrimp for the No-Cook Shrimp Rolls and put them in the refrigerator until ready to use.
In a separate bowl, whisk together lemon juice, 2 tablespoons of oil, and 1/4 teaspoon of each salt and pepper. Toss with onion.
Add to bowl with onion along with cucumber and shrimp and toss to combine. Fold in watercress and avocado.
Nutrition Facts (per serving): About 420 calories, 23.5 g fat (3.5 g saturated), 35 g protein, 1,595 mg sodium, 20 g carb, 4 g fiber
4. Salmon Kale Superfood Salad With Creamy Lemon Vinaigrette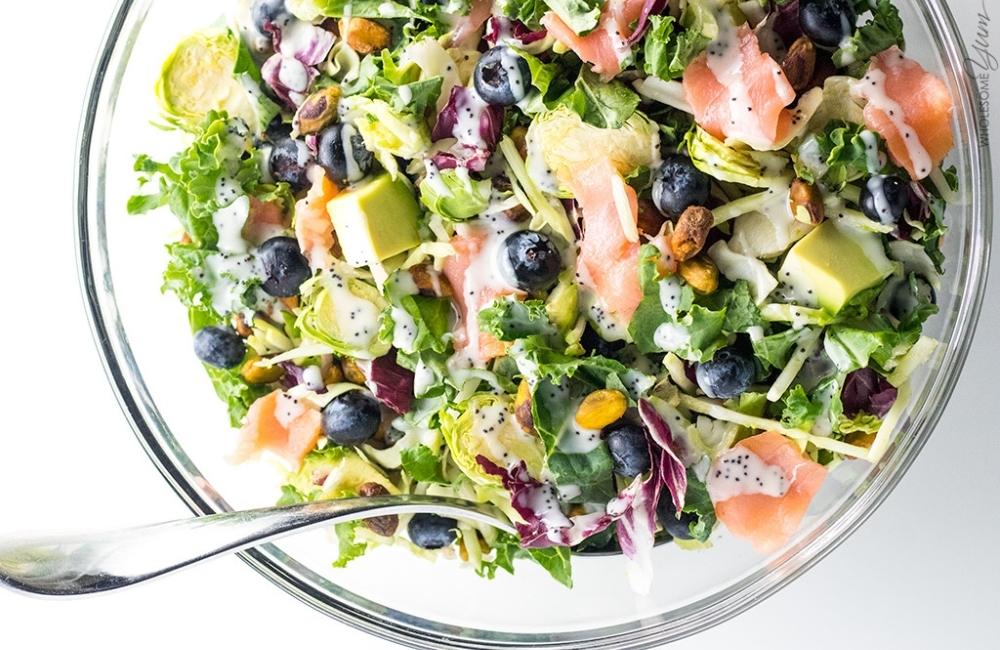 Kale is another great option that really packs a punch when it comes to nutrients. Plus, it can be a nice change in texture from your typical lettuce. 
This easy kale superfood salad with lemon vinaigrette is both satisfying and delicious. The flavor is so indulgent that it will even be a huge hit with your friends who aren't on a keto diet.
On top of the perfectly tossed kale salad, you have smoked salmon and avocado. It's a perfect blend of saltiness, tang, and creaminess. Plus, the blueberries add antioxidants and sweetness to the mix. This recipe calls for pistachios, but feel free to substitute almonds, pecans, or walnuts if you prefer!
Not to mention, you can whip up this superfood salad in minutes. All it takes is 5 ingredients, plus 5 in the dressing! You're going to love this salad. I promise!!
Grab the recipe here.
5. Kale and Roasted Cauliflower Salad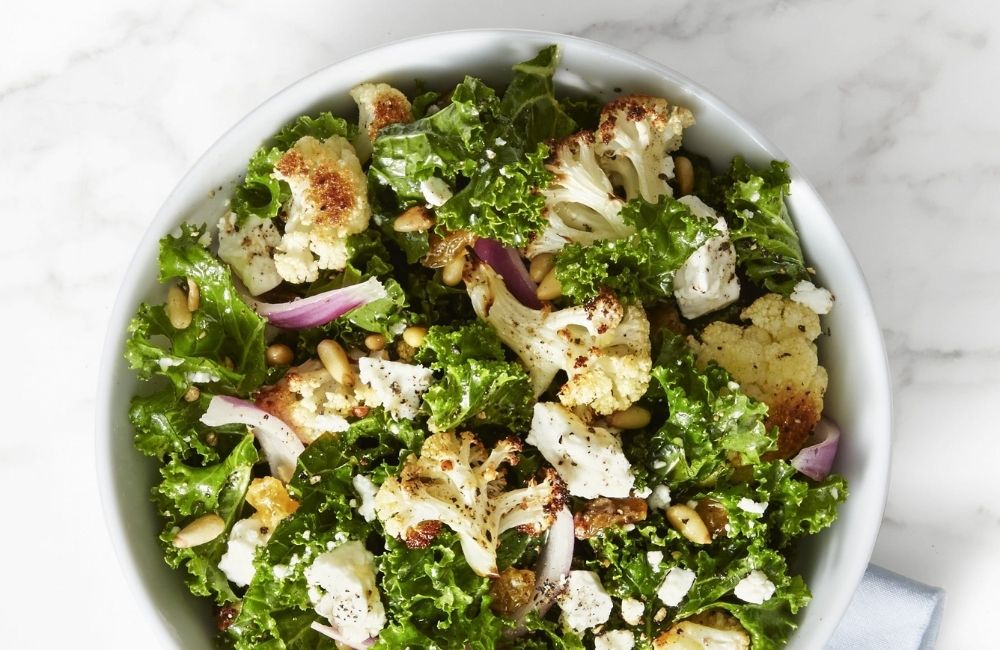 This heart-healthy nutty green bowl of goodness is perfect for those who want to eat vegan while on a keto diet.
This delicious low-carb salad calls for roasted cauliflower and raw kale as a base. On top of that, you dress it up with a few other nutritious ingredients you'll love, like red onion, feta cheese, lemon juice, and nuts.
This recipe calls for pine nuts, but we think sunflower seeds would make an excellent alternative as well.
This keto salad recipe is designed to keep your heart healthy and your belly full. All while keeping you in ketosis and enabling you to pack in healthy fats. Plus, switch up the spices on your cauliflower (or even throw in some broccoli) to change up the flavors of the salad!
Grab the recipe for the kale and roasted cauliflower here…
Note: Leave out the golden raisins. They are not all that keto-friendly…
6. Low-Carb Cobb Salad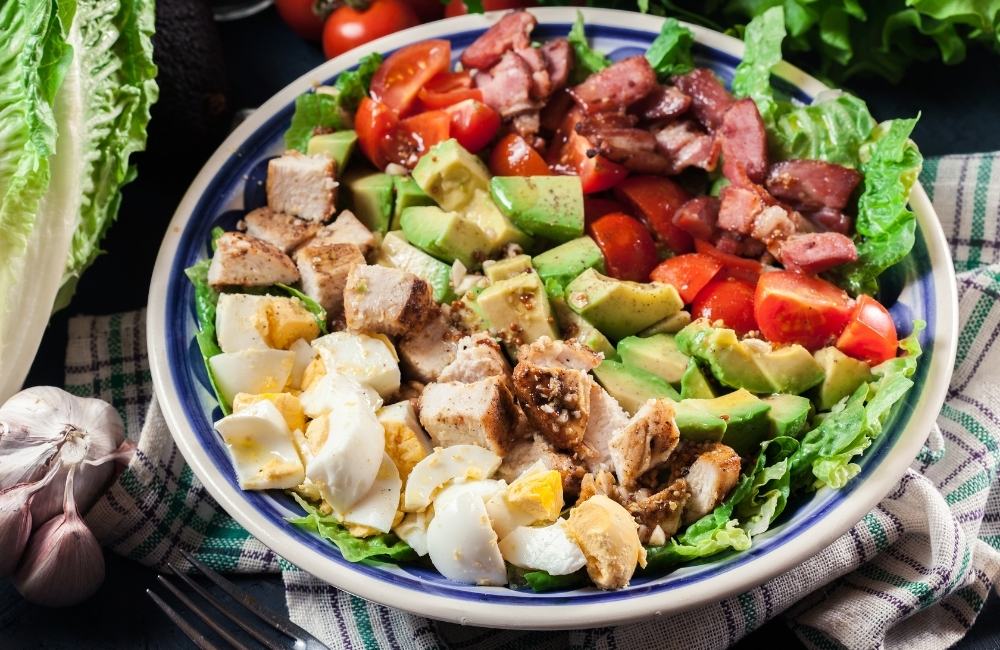 I love this Cobb salad for so many reasons. For one, it contains many of my favorite foods. From eggs and bacon to avocado, this is a high-fat, tasty blend low in net carbs!
With the right mix of ingredients, Cobb salad can become your perfect keto meal.
Not to mention, everything in the ingredient list brings a different texture to the table! Simply put, this salad is sure to be a huge hit.
To prep this salad, you'll need crunchy romaine, hard-boiled eggs, and crispy bacon. In the end, dress your salad with savory blue cheese dressing (or buttermilk ranch, if you prefer) that gives the salad the perfect creaminess.
If you're not a fan of blue cheese, feel free to sub another creamy dressing instead!
This might be the first time you're making this salad, but I promise it won't be the last.
To get started, grab this amazing Cobb salad recipe here.
7. BLT Balsamic Chicken Avocado & Feta Salad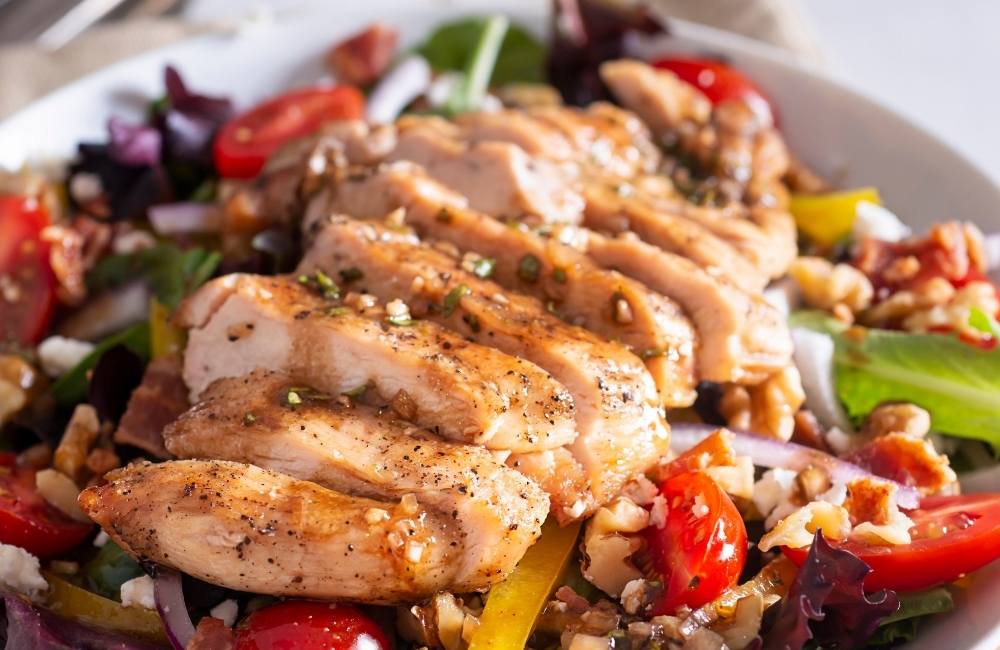 Is there any better combo than B, L & T? Add balsamic vinegar marinated chicken, avocado, and feta and you've got the perfect bowl. 
It's crunchy, tasty, and most importantly very filling. Once you have a bite, guaranteed, you will want a whole large bowl! It's really that good!! It's hard to believe something this tasty is actually healthy for you. And thank goodness, it is.
This dish contains everyone's favorites ingredients:
Bacon, chicken in a balsamic marinade, avocado, feta, and (optional: some nuts like almonds or pecans for toppings)
The best part is, that it's also very easy to put together and all of the ingredients are easy to find at the grocery store (or maybe even in your pantry). 
Get the recipe here and see it for yourself.
8. Nicoise Keto Salad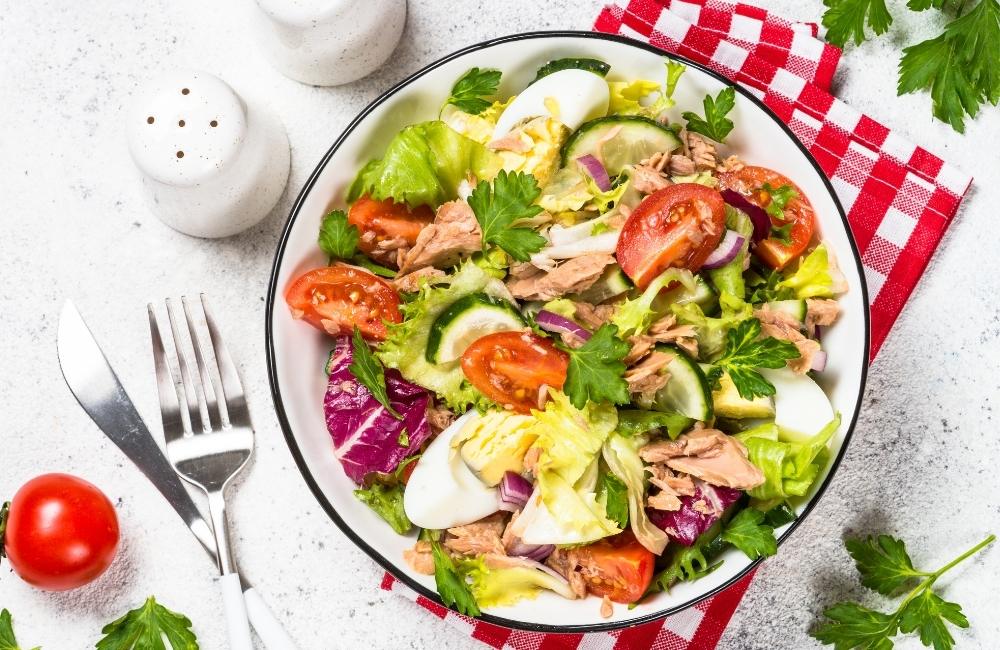 Nicoise salad is a healthy, colorful, and protein-packed tuna salad. It's a salad staple in French cuisine that's also really popular around the globe.
And after one bite, you'll understand why.
To start, the French definitely have a flair for making exciting dishes out of simple ingredients. They turn something as simple as tuna and olives into a savory salad that's satisfying and buzzing in taste.
Add some garlic cloves to the red wine vinegar salad dressing to give it an even bigger punch of flavor.
You could always sub in apple cider vinegar if you prefer!
This salad is a perfect choice if you are limiting meat and poultry. It's sure to be a huge hit for pescatarians and non-meat eaters.
Not to mention, you get a ton of healthy fats from both the fish and the olives, as well as the yolks of the eggs. For those with a busy schedule, rest assured this salad only takes 5 minutes to make from start to finish.
Add this salad to your keto meal plan when you feel you're falling short on your fish intake.
Get the recipe for Nicoise Salad
9. Keto Chicken Salad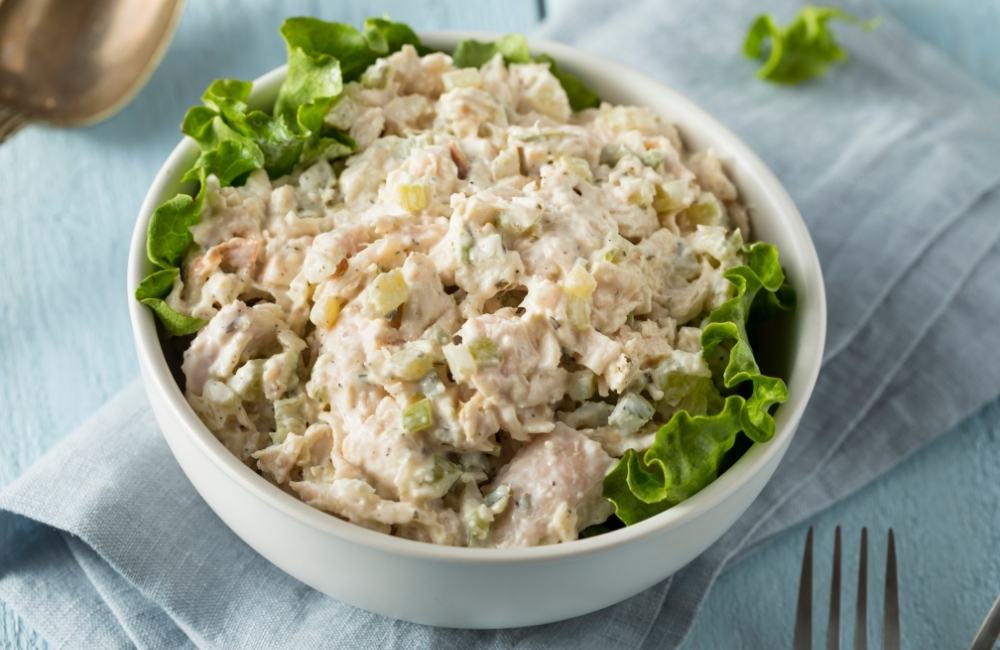 If you are not fond of seafood, then this chicken salad is your perfect choice.
Whether you want a quick bite or something to add to your mixed greens, this chicken salad is a perfect go-to. Plus, since it's free of gluten and dairy, this salad follows the paleo (and gluten-free) diet as well.
Let's also not forget that it's a perfect filling for a low-net carb Keto wrap, or even a dip for celery, carrots, bell peppers, or broccoli.
This easy chicken salad recipe is packed with protein and full of flavorful herbs like dill and parsley.
Plus, we're sneaking some veggies in there with celery and green onions. As meaty as it is, it's still a very refreshing and clean-tasting salad you can always count on.
Learn how to make this simple, healthy, & naturally low-carb chicken salad in just a few minutes!
Find the ingredient list and instructions here at wholesomeyum.com
10. Cobb Egg Salad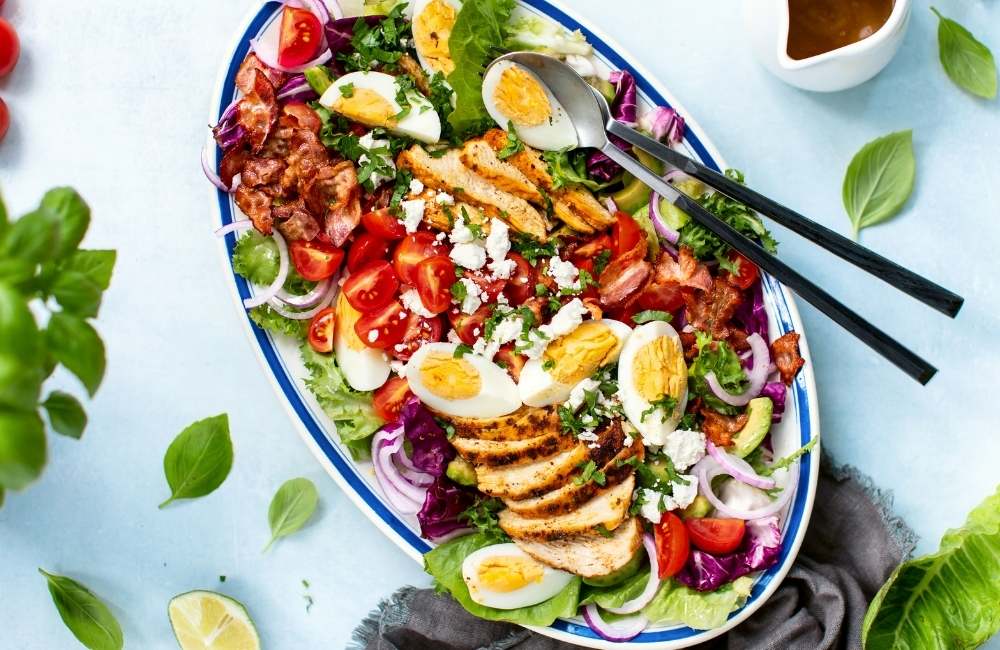 When the first two ingredients are mayo and greek yogurt, you know this dish is going to give you the creaminess you crave.
We may be used to summer classics like pasta and potato salad, but eggs are such a great source of both protein and healthy fats, so we knew we had to include this Cobb egg salad in our list.
Take a traditional egg salad and add bacon, blue cheese, chives, and vinegar and you've got yourself a huge hit. The ranch would be a great substitute for this salad as well if you aren't a fan of blue cheese. Plus, this would definitely keep well in the refrigerator, so you could eat it throughout the week.
Get the recipe here.
Final Word
While salads might not be the first dish you think of when you think of keto, we hope these recipes helped to change your mind.
Remember to pack in tons of fiber and nutrients with veggies, while adding fat using salad dressings made of mayo, sour cream, or yogurt.
Popular choices like ranch dressing or creamy blue cheese dressing are often good low-carb options (but always remember to check the nutrition facts).
Don't forget to add spices and herb toppings like cilantro, basil, or parsley to add an extra punch of flavor to these meals.
Plus, these salads are just scratching the surface of possibilities, try keto broccoli salad, taco salad, chicken bacon, ranch salad, and so many more!
The possibilities are endless when you get creative with the foods in your pantry.
(Visited 7,232 times, 9 visits today)