This low-carb keto chili is free of beans, yet it's perfectly chunky, thick, and comforting! It's perfect for those cold nights when you want something warm, filling, and pure comfort.
It's a perfect keto dinner you can make in one pot.
This low-carb chili is made with only the ingredients that are healthy and keto friendly. Not to mention, they are easily accessible and affordable.
This no-bean chili is also quick to make, and you can use a pre-made chili mix instead of mixing your own spices to skip some steps.
Whether you love your chili spicy or mild, you can adjust it to your liking. You can add in Jalapeno peppers for a kick or keep them out for a mild version. To make it vegan, you can add bell peppers instead of beef.
It's really flexible and clean while keeping it keto, low-carb, and high-fat.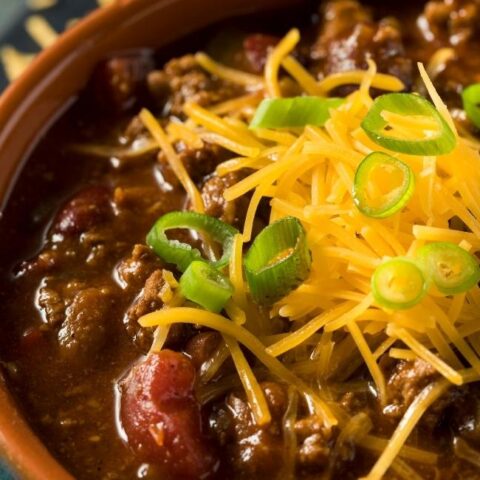 Keto Chili
This keto chili is chunky and satisfying without beans or legumes. It's so comforting and satisfying that you'll repeat it all winter long. It's a one-pot recipe that'll be sure to impress your family and friends!
Ingredients
2 tbsp avocado oil
1/4 medium yellow onion, chopped
2 celery stalks, chopped
1 green bell pepper, chopped
1/2 c. sliced crimini mushrooms
2 cloves garlic, minced
2 lb. ground beef
2 tbsp. chili powder
2 tsp. ground cumin
2 tsp. dried oregano
2 tbsp. smoked paprika
1 tsp sea salt
1 tsp ground black pepper
2 cup low-sodium beef broth
8 tbsp. sour cream, for garnish
1 stalk green onions, sliced for garnish
1 avocado, sliced for garnish
20 olives, sliced for garnish
Instructions
Pour the avocado oil into a medium pot over medium heat. Add chopped mushrooms,
onions, pepper, and celery to the pot and cook for 5 minutes.
Add garlic and cook for 1 more minute.
Add the ground beef to the pot. Stir as you cook the beef.
Season it with salt and pepper, chili powder, oregano, paprika, and cumin, and keep mixing for 2 minutes.
Add the beef broth and bring to a simmer. Without putting a lid, cook for 10 more minutes until the broth gets reduced.
Divide the chili into 8 bowls and garnish it with sour cream, olives, green onions, and sliced avocado. Serve and enjoy!
Nutrition Information:
Yield:

2
Serving Size:

1
Amount Per Serving:
Calories:

1766
Total Fat:

124g
Saturated Fat:

39g
Trans Fat:

4g
Unsaturated Fat:

68g
Cholesterol:

432mg
Sodium:

2644mg
Carbohydrates:

33g
Fiber:

16g
Sugar:

8g
Protein:

133g
(Visited 933 times, 3 visits today)