On the hunt for the most scrumptious way to get your protein in your keto diet?
These quick and easy keto chicken recipes are SO full of flavor that you're going to want to make them every day!
No more eating boring low-carb chicken on keto.
Check out these eleven simple chicken dishes for the best way to spice up your midweek keto meals.
These low-carb keto chicken recipes are perfect for dinner. Try them now!
1. Fried Keto Chicken
Ever wonder why so many southern recipes start with "Chicken Fried?" Because you can't beat the taste and texture of crispy, fried skin! Just because you are eating keto, no need to sacrifice the fantastic flavor of breading here.
This recipe uses a clever combo of parmesan, cayenne, paprika, and almond flour to keep net carbs in check! Low carb, gluten-free, and mmm mmm GOOD! Get the goodness: Fried Keto Chicken 
2. Creamy Tuscan Garlic Chicken
What respectable keto recipe doesn't include the word, "cream?" This crock-pot recipe is super simple yet divine. It will have you dreaming of the Italian countryside. Grab the recipe: Crock-Pot Tuscan Chicken
3. Easy Chicken Fricassee
Don't let its French name intimidate you. This thick, white sauce is what you get when you combine the techniques of sautéing and stewing. It's as easy to make as it is delicious, and it just might become your creamy go-to in the kitchen! Fricas-See it here: Chicken Fricassee
4. Keto Chicken Tenders
TLC—Tender Loving Chicken, right? These baked tenders are as good as the after-school snacks of days gone by. Get the recipe: Baked Chicken Tenders 
5. Keto Coconut Curry Chicken
Hurry, hurry, who loves curry? (OK, I'll stop)
The intense flavors of this curry soak right into the chicken leaving you with a mouthful of joy.
This recipe guarantees an incredibly tasty dish that goes well over cauliflower rice. Curry on over to the recipe here: Keto Dairy-free Coconut Curry Chicken
6. Keto Pesto Chicken over Zoodles
To be honest, making a recipe with the word "zoodles" in it just makes cooking more fun, right? 
Skipping all the carbs of a pasta dish is certainly fun for keto fans! And once you learn the fine art of pesto-making, you'll be adding it to just about everything from here on out. Find the recipe here: Zoodle Chicken Pesto
7. Buffalo Chicken Lettuce Wraps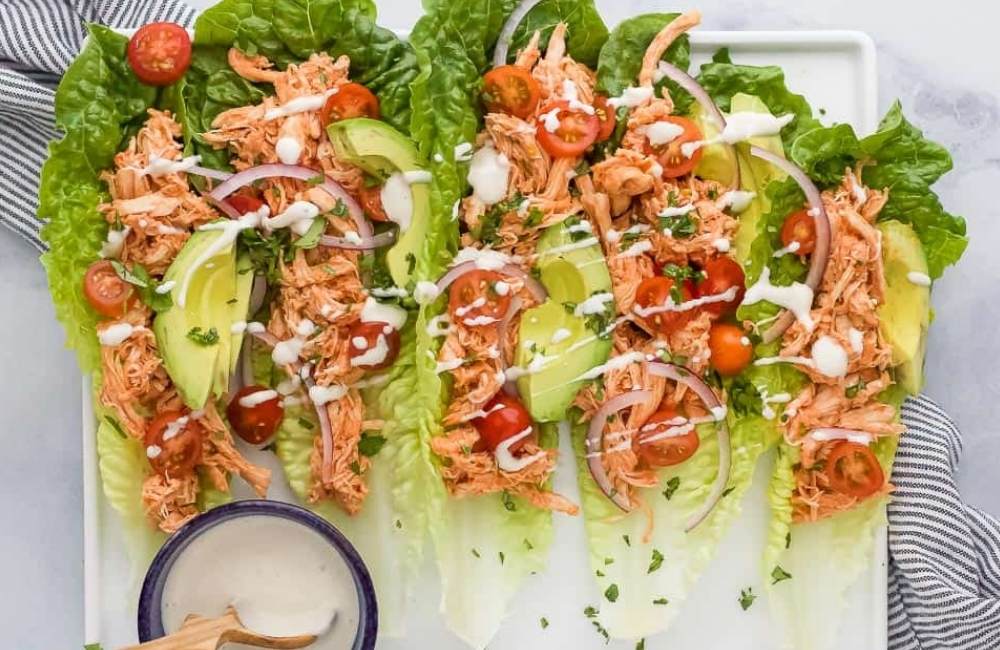 If you're looking for convenient keto lunches, look no further. This recipe provides a versatile one to dress up or down depending on how many carbs you've got left for the day. Rotisserie chicken or chicken breasts are sliced up for the buffalo mix. Then, you roll them with lettuce—a great utensil-free lunch for when you're on the go.
For more like this, check out these easy keto lunch ideas. Get the recipe: Keto Buffalo Chicken Lettuce Wraps 
8. Keto Caprese Chicken
Balsamic vinegar adds the perfect complementary tartness to this easy, cheesy chicken.
It's the Italian classic that never gets old, and it's a good thing you can still enjoy this on Keto. Get the recipe: Keto Caprese Chicken
9. Crock-Pot Chicken Stew
Chicken Soup is the ultimate comfort food. But this one takes it up a notch and makes it even more divine for Keto eaters. 
The addition of heavy cream only makes it that much more keto-licious! The key to this stew's savory thickness is the addition of xantham gum. It's an ingredient all serious keto chefs must have in their kitchens.
Recipe found here: Chicken Stew
10. Greek Garlic Keto Chicken
As long as everyone in the house enjoys this garlicky recipe together, you'll all breathe easy.
Garlic lovers, rejoice here: Keto Greek Garlic Chicken
11. Parmesan Garlic Chicken Wings Keto
Parmesan. Garlic. Chicken. Wings. Is there anything more to add? Oh—these bad boys will be cooking in the crock-pot while you go about your day.
I'll be waiting for your triumphant return home as the keto-genius you are!
Recipe found here: Parm-Garlic Chicken Wings
(Visited 429 times, 1 visits today)