This keto-friendly chicken piccata recipe is a quick 30-minute meal that checks all the boxes for a keto diet.
Thin chicken pieces are coated in almond flour instead of the traditional all-purpose flour, saving you net carbs without compromising the flavor.
A straightforward and tasty lemon butter pan sauce with capers tops the chicken to give you a simple twist on a classic.
This dish is low carb, keto-friendly, and gluten-free but doesn't sacrifice any flavor. A great idea on a busy night, this dish comes together in 30 minutes and doesn't require lots of cleaning up, so you can relax at the end of a long day.
Chicken piccata is a classic Italian dish traditionally served with thin cuts of veal that are breaded and then fried. I use chicken instead for this recipe, which can be butterflied or pounded out with a kitchen mallet.
I prefer to use chicken breasts since they are the easiest to get a consistent size and shape. You can make this recipe even fewer carbs by omitting the almond flour and pan-searing the chicken with salt and pepper.
This lemon chicken piccata recipe is so simple that it can all be made in the same pan, making clean up quick and easy. Once you have fried your chicken in the pan, remove them and set them to the side. A quick pan sauce of butter, lemon juice, white wine (or chicken stock), garlic, shallot, and capers is added to the same pan and ready in no time.
You'll also like:
How to Make Pan-Seared Lemon Chicken Piccata
To make this chicken piccata recipe, gather all of your ingredients and prepare them. Since the most work you will do is in the prep, I find it's easiest to get this out of the way before you even turn the pan on so that you can quickly move through the recipe.
If you can buy thin chicken slices, you can skip this first step. Otherwise, carefully butterfly, cut, or pound your chicken breasts to be uniformly thin.
If you are using a kitchen mallet to pound your chicken breasts, be sure to use plastic wrap to cover the chicken before you start. This prevents it from sticking to the mallet and creating an unsanitary mess.
Once your chicken is done, measure out all of your wet ingredients and keep to the side for your pan sauce. Mince your garlic and shallots. If you are garnishing with parsley, give it a nice fine chop and set it to the side.
Combine the almond flour, salt, and pepper in a shallow bowl or large enough plate and begin to dredge your chicken. Set the already dredged pieces on another plate.
Begin to preheat your pan over medium-high heat. Working in two batches so that you don't overcrowd the pan, add half the butter and half the olive oil.
Check to make sure the oil and butter are hot enough by sprinkling a pinch of almond flour in the pan. If it sizzles, add your first batch of chicken to the hot pan.
Cook the chicken on each side for about 2-3 minutes, or until golden brown. Once your chicken is cooked, remove it and place it on a clean plate. You may place a paper towel on the plate if you want to soak up any additional oil.
Repeat to make the second half of the chicken.
When all of your chicken is removed from the pan, lower your heat to medium so that you can work on the pan sauce. Add one tablespoon of butter to the pan along with your garlic and shallots. Cook until they are softened, about 2 minutes.
Add the wine or chicken stock to the pan and bring to a boil by increasing the heat. Allow the liquid to reduce by half. Last, add the lemon juice and capers as well as your chicken back into the pan.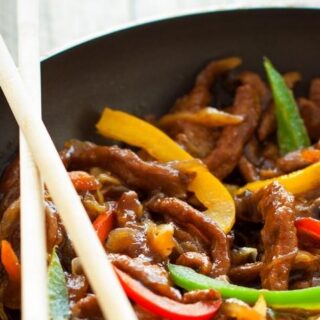 Keto Beef Stir Fry
This low-carb beef and vegetable stir fry recipe is not only keto-friendly, but it is also paleo, and Whole30.
Ingredients
3/4 lb beef, cut into strips
1 bell pepper, sliced
1 cup kale or collar greens
1/2 medium onion, sliced
2 small carrots
1 clove of garlic, sliced
2.5 tbsps soy sauce
1 tbsp sesame seeds
Instructions
Cut all your vegetables into slices. Buy beef that's already cut into strips or cut them yourselves in small pieces.
Heat 1 tbsp of sesame oil in a large skillet over medium-high heat. Cook the beef until it is seared on the outside and cooked halfway through on the inside.
Add carrots and onions to the beef and cook together. Add the garlic, bell pepper, and collard greens.
Season it with sea salt and pepper and add the soy sauce too.
Put a lid on it and reduce the heat to medium. Cook for a few minutes until the carrots are cooked.
Stir fry and reduce liquid if any without a lid on. Sprinkle the sesame seeds at the end and serve.
Enjoy this beef stir fry in lettuce cups as an appetizer or serve it over cauliflower rice.
Nutrition Information:
Yield:

2
Serving Size:

1
Amount Per Serving:
Calories:

568
Total Fat:

31g
Saturated Fat:

12g
Trans Fat:

1g
Unsaturated Fat:

16g
Cholesterol:

148mg
Sodium:

1242mg
Carbohydrates:

21g
Fiber:

8g
Sugar:

5g
Protein:

52g
(Visited 487 times, 1 visits today)