Craving take-out from your favorite Chinese restaurant? This beef keto stir fry is as good as take-out if not better and much healthier.
It's easy, fast, and flavorful. It's low-in carb and keto-friendly.
If you are used to making stir fry using frozen vegetables, this recipe is far better.
It uses fresh, nutritious vegetables low in carbs and quality beef strips that give more taste to the already flavorful dish.
Thanks to protein-packed beef steak, it's quite filling without packing in carbs.
It's a perfect weeknight dinner on a keto diet.
The recipe is also flexible and almost fail-proof.
You can use whatever keto-friendly vegetables you have on hand.
From zucchini to asparagus, broccoli to kale, Chinese stir fry is a highly customizable dish.
And you can almost never go wrong with the stir fry staples, beef, carrots, bell peppers, and onions.
Serve it over cauliflower rice or if you are having this as an appetizer, you can serve them in lettuce cups.
There are so many ways to enjoy this beef dinner and your family will certainly love every bite.
If you are not familiar with Asian cooking, here are a few ingredients you need specific to Asian dishes including this.
What You Need to Make Keto Stir Fry:
Soy sauce: Soy sauce is a Japanese liquid condiment that's made of fermented soybeans. It's salty and has umami that adds depth to the flavor. Regular soy sauce contains wheat, but if you are gluten-free, you can use Tamari soy sauce that's free of wheat. For the paleo option, liquid aminos is the closes substitute. It has a milder flavor and a sweeter taste than regular soy sauce.
Sesame oil: Sesame oil is a vegetable oil made from sesame seeds. It's a cooking oil that gives a nutty fragrance and is used as a flavor enhancer. If you don't have sesame oil, you can use whatever cooking oil you normally use. It won't add as much flavor, but the dish will come out just as delicious.
Sesame seeds: Like sesame oil, sesame seeds add a nutty flavor to the stir fry. They can also be optional but add a nice finishing touch.
You may also like:
How to Make Beef Stir Fry:
Making stir fry is pretty simple and straight forward. Here are the basic 5 steps to cooking your own stir fry:
Start by cutting your vegetables and beef into slices and strips.
Prepare a large skillet or wok and add the sesame oil. Cook the beef until they are cooked half-way through and seared on the outside.
Add sturdy vegetables like carrots and onions and cook together. Add other vegetables like garlic, bell peppers, and collard greens. Season it with salt and pepper and soy sauce.
Cover it with a lid and cook for a few minutes until the sturdy vegetables are cooked.
Uncover and add sesame seeds. Cook for additional a few minutes without a lid on and enjoy.
Tips to Making Keto Stir Fry Flavorful
Asian dishes tend to use honey or sugar to sweeten their dish, and stir fry is no exception.
You can certainly use keto sweeteners in this dish, but I personally choose to leave it out.
Instead, I add 1/2 onion and cook it till they are translucent, so the onions can release some sweetness.
But if you want a bit more sweetness, try xylitol.
If you are not using any sturdy vegetables and all your veggies cook fast, you don't need to put a lid on it to cook.
The only time you want to put a lid is when you are adding vegetables like broccoli, carrots, and reddish.
They take longer to cook and if you don't cover it can take longer to cook them through. Or you risk eating them raw.
Also, with any sturdy veggie, you add, be sure to add other veggies that release water.
Zucchini, spinach and Napa cabbage are some examples of vegetables that taste great in stir fry and have high water content.
Ready to cook delicious keto stir fry? Here is the recipe: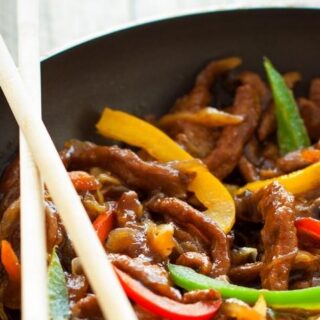 Keto Beef Stir Fry
This low-carb beef and vegetable stir fry recipe is not only keto-friendly, but it is also paleo, and Whole30.
Ingredients
3/4 lb beef, cut into strips
1 bell pepper, sliced
1 cup kale or collar greens
1/2 medium onion, sliced
2 small carrots
1 clove of garlic, sliced
2.5 tbsps soy sauce
1 tbsp sesame seeds
Instructions
Cut all your vegetables into slices. Buy beef that's already cut into strips or cut them yourselves in small pieces.
Heat 1 tbsp of sesame oil in a large skillet over medium-high heat. Cook the beef until it is seared on the outside and cooked halfway through on the inside.
Add carrots and onions to the beef and cook together. Add the garlic, bell pepper, and collard greens.
Season it with sea salt and pepper and add the soy sauce too.
Put a lid on it and reduce the heat to medium. Cook for a few minutes until the carrots are cooked.
Stir fry and reduce liquid if any without a lid on. Sprinkle the sesame seeds at the end and serve.
Enjoy this beef stir fry in lettuce cups as an appetizer or serve it over cauliflower rice.
Nutrition Information:
Yield:

2
Serving Size:

1
Amount Per Serving:
Calories:

568
Total Fat:

31g
Saturated Fat:

12g
Trans Fat:

1g
Unsaturated Fat:

16g
Cholesterol:

148mg
Sodium:

1242mg
Carbohydrates:

21g
Fiber:

8g
Sugar:

5g
Protein:

52g
(Visited 984 times, 1 visits today)